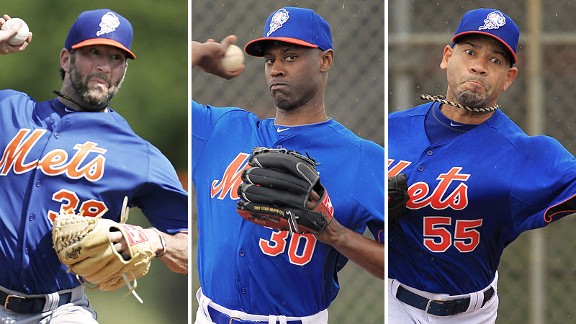 USA TODAY Sports
Shaun Marcum, LaTroy Hawkins and Pedro Feliciano all will pitch in a "B" game today.
PORT ST. LUCIE, Fla.
FIRST PITCH: The Mets mostly enjoy the first of three straight Tuesdays off, but some players will report to work for an 11 a.m. "B" game in Jupiter, Fla., against the Miami Marlins at Roger Dean Stadium.
Pedro Feliciano, wearing a heart monitor, is scheduled for his first game action as a Met since 2010.
Shaun Marcum, who tossed two innings in the Grapefruit League opener on Feb. 23, then opted to work on the side rather than in games, reenters action and is due to log two innings.
LaTroy Hawkins, 40, is due for an inning in relief in his first game action this spring training.
Jenrry Mejia also is scheduled to pitch.
The Marlins will use Jacob Turner, Brad Hand, Jon Rauch, Chad Qualls and Michael Wuertz.
See the Mets' travel list for Tuesday's "B" game here.
Terry Collins said he plans to use Feliciano for a full inning rather than try to match him up with a single lefty batter.
"It's tough in spring training to face one guy," Collins said. "Cripes, they may pinch-hit. … So it's tough to set up situations in spring training. So I'm going to just let him pitch his inning. Knowing him, he's going to pound the strike zone. We know that. But he needs to get an inning to make sure he builds up his arm strength."
Tuesday's news reports:
• Collins told Johan Santana on Monday that getting on the mound the previous day was "unnecessary." Read more in the Star-Ledger, Newsday, Post, Daily News, Record and MLB.com.
• Kirk Nieuwenhuis was diagnosed with a bone bruise but not ligament damage after undergoing an MRI on his left knee. Read more in the Star-Ledger, Newsday, Times, Daily News and MLB.com.
• Jeremy Hefner, seemingly the primary rotation alternative if Santana is unavailable, allowed a solo homer to Justin Upton but no other damage on Monday against the Atlanta Braves.
• Zack Wheeler should return to a mound Thursday or Friday, slightly more than a week after getting scratched with an oblique injury. Collins said the Mets will not rush Wheeler, especially because he is ticketed for Triple-A Las Vegas.
• Columnists Joel Sherman in the Post and Bill Madden in the Daily News note Monday's starting outfields said it all about the disparity between the Braves and Mets: Justin Upton, B.J. Upton and Jayson Heyward versus Lucas Duda, Matt den Dekker and Marlon Byrd. According to Madden, Byrd was informed Monday he will start getting center-field duty, while Jordany Valdespin 's outfield look is about to get under way.
• The Braves beat the Mets, 4-2, Monday at Tradition Field. Darin Gorski surrendered the game-deciding homer to Chris Johnson in the seventh. Read more at MLB.com.
• Dan Martin in the Post chats with Ike Davis, who says: "I can already tell everything's a lot different than last year. I'm actually getting some hits. I remember last year I never knew what pitch was coming and [was] not really seeing pitches because I was so out of whack."
• Byrd speaks with Mike Kerwick in the Record about playing in Mexico this winter.
• Dwight Gooden has a domestic issue, via the Daily News.
• From the bloggers … John Delcos from New York Mets Report wonders if Gooden will "ever turn his life around." … Although not a fan of advanced statistics, Shannon from Mets Police believes Jonathon Niese and Dillon Gee might be as good as Santana and Pedro Martinez in bang for the buck. … Rising Apple discusses Mets fans and their perseverance. ... Faith and Fear considers how baseball seems impervious to the concept of message discipline. ... Metsmerized Online goes Hollywood on the 2013 Mets.
BIRTHDAYS: Former first-round pick Les Rohr, who was born in the United Kingdom and now lives in Montana, turns 67. … Minor league slugger Mike Hessman turns 35.
TWEET OF THE DAY:
Between Sandy criticizing him for being lazy and Terry criticizing him for being overeager, at least Johan won't mind getting traded. #Mets

— Jason Fry (@jasoncfry) March 4, 2013
YOU'RE UP: Do you think Pedro Feliciano has anything left after his previous Mets usage, then undergoing shoulder surgery while with the Yankees?