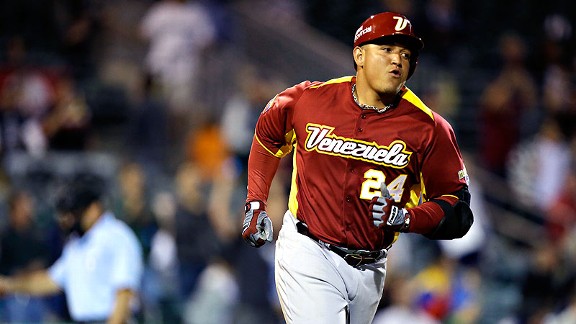 Julio Cortez/Associated Press
Miguel Cabrera and Team Venezuela visit Tradition Field this afternoon.
PORT ST. LUCIE, Fla.
FIRST PITCH: A day after the death of Venezuela president Hugo Chavez, the Mets face that country's World Baseball Classic team in a 12:35 p.m. exhibition today at Tradition Field.
Jonathon Niese, Scott Atchison and Hansel Robles are due to pitch for the Mets.
Former Cincinnati Reds right-hander Ramon Ramirez (not the ex-Met) is due to start for Venezuela. He pitched in Mexico last season.
At last night's Miami Marlins exhibition win against Team Venezuela at Roger Dean Stadium, there was no moment of silence to recognize the controversial Chavez's death and the Venezuelan flag was lowered to half-staff only briefly -- a joint decision between the Marlins and MLB.
"He was a man of baseball," Venezuela manager Luis Sojo said, according to the Sun-Sentinel. "He was always aware of the team and who was on it. He was the first call I got in the morning during the tournaments in 2006 and 2009. He lived for baseball.
"It's always sad when someone dies. He was a human being, a president, a man who battled a lot for his life. He asked his family for peace. We're in a tough situation in our country right now. God has [Chavez] now."
Wednesday's news reports: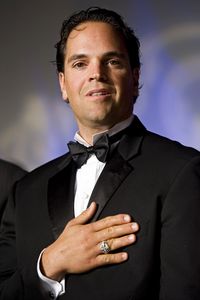 AP Photo/Cliff Owen
Mike Piazza's relationship with the Mets has been chilly.
• David Lennon in Newsday checked in with Mike Piazza, a coach for Italy's World Baseball Classic team, about whether he is estranged from the Mets. Writes Lennon:
Piazza does admit his relationship with the Mets has felt more distant lately, and he couldn't really put his finger on why. Returning for the 10th anniversary of 9/11 at Citi Field sticks in his mind as a powerful event, but he stressed that it's more difficult for him to be around the team because of his family life in Miami. …
"I wouldn't say we're growing apart -- that's too strong," he said of the Mets. "It's not terrible. It's not bad. It's just kind of in a little bit of a lull, I guess. I think when you move on, and just start a new life, a new somewhere, it's tough to stay connected, and they've gone through some changes as well. I would say that I've turned a page in my life personally. I think if there is a future for me there, I truly believe things will work out. I'm always optimistic."
• Wearing a heart monitor, Pedro Feliciano allowed a leadoff homer and plunked the lone lefty batter he faced while making his first appearance as a Met since 2010. Read more in the Post.
• Shaun Marcum and LaTroy Hawkins pitched two innings apiece and the Mets were two-hit in a 4-0 loss to the Miami Marlins in a "B" game. Most players in major league camp had Tuesday off. Read more in the Star-Ledger, Record, Daily News and Newsday.
• Jenrry Mejia has been dispatched to New York for follow-up testing on his initial physical, a team spokesman said. Read more in the Star-Ledger, Daily News and Record.
• With Mark Teixeira withdrawing from the World Baseball Classic because of a strained wrist, Ike Davis is among multiple candidates to replace him, an official told ESPNNewYork.com.
• Mets officials privately believe Johan Santana almost assuredly cannot avoid the DL to open the season, writes Andy Martino in the Daily News. Sandy Alderson publicly has described it as "less and less likely" that Santana can be ready for Opening Day.
• Via a video game, UniWatch gets an apparent sneak peek at this year's All-Star Game uniforms. View here.
• Tickets for the July 14 Futures Game at Citi Field as well as FanFest at Jacob Javits Center go on sale Saturday at 10 a.m. Details here.
• Richard Sandomir in the Times reports Mets' revenue continues to tumble. Writes Sandomir:
The ballpark's latest financial statements show some of the effects of faltering attendance. Last season, the Mets averaged 28,035 a game, down nearly 7 percent from the 2011 season.
Ticket receipts from Citi Field's most expensive 10,635 seats -- the biggest source of revenue -- fell nearly 13 percent, to $43.9 million from $50.5 million in 2011. Advertising revenue also fell, to $44.2 million from $46.1 million. Luxury suite revenue took a small hit, dropping from $7.7 million to $7.5 million. But revenue from concessions, parking and "other" increased.
Revenue fell over all, to $121.5 million from $126.9 million. In 2010, it was $143.9 million.
• David Wright had an RBI triple and walk in three plate appearances and logged five innings at third base as Team USA played to a 4-4 draw with the Chicago White Sox in a World Baseball Classic tune-up Tuesday in Glendale, Ariz.
• Columnist Joel Sherman in the Post asserts that even the Mets' strength -- starting pitching -- cannot be viewed as a strength when compared with the division. Writes Sherman:
So the Mets like their rotation. But will it be better than Washington's with Stephen Strasburg, Jordan Zimmermann, Gio Gonzalez and plenty of back-end depth? Nope. Is it better than the Phillies' with Cole Hamels, Cliff Lee and Roy Halladay (and if you say Halladay is a health concern, I would say not nearly as much as Johan Santana)?
Are the Mets' starters better than the Braves'? Even if you think Santana, Jon Niese and Matt Harvey are comparable to Tim Hudson, Kris Medlen and Mike Minor, well, tie goes to the group supported by superior relief. And Atlanta's Craig Kimbrel-led bullpen might be the converse of the Mets' outfield -- the best unit in the majors.
So within the NL East, the Mets' rotation -- which, again, is their strength -- projects as better than just the sell-off Marlins'.
• Jared Diamond in the Journal reports Collin Cowgill is one of only 56 position players since 1876 in the majors who throw lefty and bat righty. The only other active players in that category: Ryan Ludwick and Cody Ross. "It happened the way it was supposed to," Cowgill told Diamond.
• Ken Belson in the Times looks at the growing isolation the Mets have in Port St. Lucie with fewer and fewer teams to play. The Washington Nationals (Viera, Fla.) and Houston Astros (Kissimmee, Fla.) may be the next teams on the move. And the recent buzz among baseball personnel is that the St. Louis Cardinals may even look to depart nearby Jupiter, which they reportedly would be allowed to do if one more team departs Florida's Atlantic Coast.
• Michael Bourn, who signed with the Cleveland Indians after the Mets never got the draft-pick issue resolved, told Anthony McCarron in the Daily News: "Mets fans shouldn't have anything to be mad at. They're trying to move in the right direction. I can say that. I know that. … I couldn't wait too much longer, man. It was close to spring training before it happened. I was ready to roll and so was Cleveland. I'm pretty sure the Mets were, too. It just didn't happen."
• Dan Martin in the Post writes the Mets regret putting some of their pitchers on the mound so early in spring training.
• From the bloggers … The Eddie Kranepool Society reviews Piazza's autobiography. … Shannon from Mets Police looks back at his first day as a Shea Stadium vendor, Opening Day 1987.
BIRTHDAYS: No one to ever play in a game for the Mets was born on this date, but Shaquille O'Neal and Tom Arnold celebrate birthdays.
TWEET OF THE DAY:
If you're keeping score,Mike Piazza has strained relationships with LAD, OAK and NYM. newsday.com/sports/basebal… Hey, there's always the Marlins

— Buster Olney (@Buster_ESPN) March 6, 2013
YOU'RE UP: Which former Mets players' numbers should the team retire?