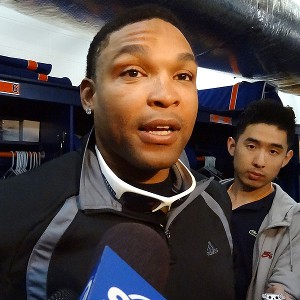 Adam Rubin
Marlon Byrd is starting in center field on Wednesday against Venezuela.
PORT ST. LUCIE, Fla. -- Terry Collins' lineup for today's exhibition against Team Venezuela has Marlon Byrd in center field and Mike Baxter in right field.
Could we see that aligment (or Jordany Valdespin in right instead of Baxter) during the regular season?
Collins said Wednesday morning he just wants to take a look and that he's a long way from making decisions, but it seems entirely plausible.
If the lefty-hitting Kirk Nieuwenhuis makes the team, the issue is moot, since he likely would platoon in center with the righty-hitting Collin Cowgill.
But what if Nieuwenhuis opens the season injured, or in the minors with Valdespin beating him out? Then Byrd in center field against righty pitching may have to be an option.
Thirty-nine of Byrd's 40 starts last season with the Chicago Cubs and Boston Red Sox came in center field.