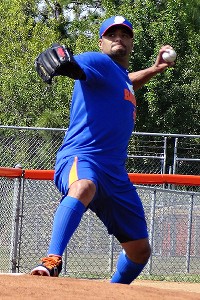 Adam Rubin
Johan Santana lightly throws off a mound Wednesday.
PORT ST. LUCIE, Fla. -- Johan Santana and Zack Wheeler threw on flat ground Wednesday side by side. Santana then stepped on the mound for the second time since resuming that type of activity.
Santana's session was not intense. Pitching coach Dan Warthen served as his catcher. Santana also went through fielding drills, with instructor Al Jackson hitting him comebackers.
Wheeler (oblique strain) threw on flat ground for the second straight day.