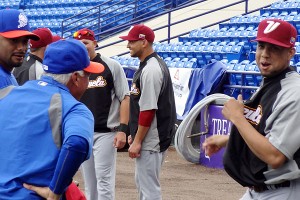 Adam Rubin
Francisco Rodriguez shares a laugh with Terry Collins and Johan Santana before Wednesday's game.
PORT ST. LUCIE, Fla. -- A Mets official recently told ESPNNewYork.com there is little chance of Francisco Rodriguez being re-signed. Still, K-Rod would entertain a reunion, he indicated Wednesday.
Rodriguez, who remains a free agent, was part of the Venezuelan World Baseball Classic team that defeated the Mets, 14-10, Wednesday at Tradition Field.
K-Rod did not appear in the game.
"I would love to," Rodriguez told reporters about rejoining the Mets. "They've got a great coaching staff over there. To come back and redeem myself would be great, because I've got to be realistic and honest. You would have to be real blind to not see that I fell when I was there. That's not even a question. To be able to get one more shot and get it done would be great."