PORT ST. LUCIE, Fla. -- Miguel Cabrera slugged homers against Carlos Torres and Elvin Ramirez in consecutive innings and Venezuela's World Baseball Classic entrant built a huge lead en route to a 14-10 win against the Mets at Tradition Field on Wednesday afternoon.
Game tidbits: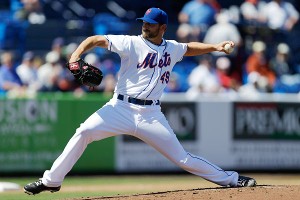 Julio Cortez/Associated Press
Jon Niese pitches against Venezuela on Wednesday.
FORMIDABLE FOE: Facing a loaded Venezuela lineup, Jonathon Niese was charged with four earned runs on six hits and two walks in 2 1/3 innings. Two of the runs charged to Niese scored after being inherited by Torres.
Asked if he would ever see anything like the Venezuelan lineup again this year, Niese said: "Obviously not, unless I'm in the All-Star Game. They have an unbelievable lineup, and they battle very well. They made me throw a lot of pitches. I thought I executed some good ones, and then I didn't execute some. They made me pay for a bunch of them."
Niese stands to be the Opening Day starter if Johan Santana is not ready for the April 1 game against the San Diego Padres at Citi Field.
"He's working real hard to get back," Niese said about Santana. "He wants that spot more than anybody. It would be a great honor. I'm thankful that the Mets put that trust in me. But, like I said, Johan is working hard to get to that position."
LUCKY SEVEN: Trailing 12-0, the Mets produced a seven-run fifth inning against Wil Ledezma and Romulo Sanchez. The damage included a three-run homer by Marlon Byrd against Sanchez.
CENTER ATTENTION: Terry Collins used Byrd and then Jordany Valdespin in center field as he tries to identify lineup options. The manager noted postgame that he has been disappointed with the Mets' hitting thus far, so he's clearly experimenting. It marked Byrd's first time in center field and Valdespin's first time in the outfield this spring training.
"Well, he didn't get much action, except for balls blowing over his head that he had to go chase," Collins said about his impressions of Byrd in center. "He's played out there. I just wanted to get him out there and get to see how he looks. I'm going to play him again out there another time. I want to get Valdespin some looks in the outfield. We're not swinging the bats very good. I know it's spring training. I know it's early in spring training. Everybody has got 40 more at-bats to go. I'm looking for somebody to step up here."
DUCK! Zach Lutz was hit with a curveball in the back of the helmet by former Mets farmhand Deolis Guerra, but remained in the game and said he was fine afterward. Lutz had been drilled in the head twice with Triple-A Buffalo in 2011, each time suffering a severe concussion.
PARTING SHOT: Venezuelan Wilmer Flores delivered a solo homer with two out in the ninth against his country's national team to cap the scoring.