PORT ST. LUCIE, Fla.
FIRST PITCH: Matt Harvey gets the Grapefruit League start today as the Mets face the Miami Marlins at 1:10 p.m. at Tradition Field. Greg Burke and Brandon Lyon also are scheduled to pitch.
The Marlins are scheduled to start right-hander Ricky Nolasco.
Thursday's news reports: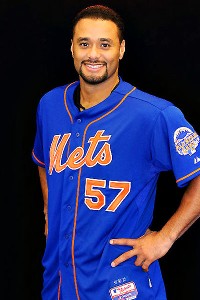 Courtesy of New York Mets
Johan Santana is aiming to enter Grapefruit League play next Thursday.
• Johan Santana is due to appear in a Grapefruit League game next Thursday against the Detroit Tigers in Port St. Lucie. Santana threw off a mound, while Zack Wheeler (oblique) long-tossed Wednesday. Venezuela manager Luis Sojo said Santana is "very sad" about being unable to represent his country in the World Baseball Classic. Read more in the Star-Ledger, Newsday, Journal, Post, Record, Daily News and MLB.com.
• Columnist Joel Sherman in the Post writes about the Mets about to bridge two eras, with Santana fading and Wheeler about to ascend. "What's not to be excited about?" special assistant J.P. Ricciardi told Sherman about Wheeler. "He's got great stuff. He has a great arm. He is a nice kid. And he has a good work ethic. If you aren't going to get excited about him, who are you going to get excited about?"
• Jenrry Mejia, who was flagged for a thyroid issue in his initial physical, is scheduled to travel back from New York to Port St. Lucie this morning.
• Miguel Cabrera led a juggernaut offense with two homers and Jonathon Niese tossed 2 1/3 innings as Venezuela beat the Mets, 14-10, in an exhibition game Wednesday at Tradition Field. Read more at MLB.com.
• Columnist John Harper in the Daily News discusses the importance of Niese to the franchise.
• Kansas City Royals first baseman Eric Hosmer, not Ike Davis, was tabbed to replace injured Mark Teixeira on Team USA's WBC roster. Joe Torre acknowledged considering Davis but suggested Hosmer already being in Arizona, where Team USA opens play against Mexico on Friday, was a major factor.
"There were a couple of issues," Torre told David Lennon in Newsday. "We were looking for a left-hander, and Ike is certainly someone we talked about. We talked about Ryan Howard. But where we were, if we could stay in Arizona -- only because of how close we were to the end and he wouldn't be able to get here for [Wednesday's exhibition] game and stuff -- it just worked out perfect. He's here."
Read more in the Record.
• Although it is unlikely to materialize, Francisco Rodriguez said he would like to rejoin the Mets. K-Rod, who is pitching for Venezuela in the WBC, remains a free agent. Read more in the Star-Ledger, Post, Times, Newsday, Daily News and MLB.com.
• David Wright went 2-for-4 with an RBI and played five innings at third base in Team USA's WBC tune-up against the Colorado Rockies.
• Marlon Byrd and Jordany Valdespin both got looks in center field during Wednesday's game against Venezuela.
• Kevin Kernan in the Post checks in with Scott Kazmir at Cleveland Indians camp.
• From the bloggers … Faith and Fear in Flushing celebrates the prospective return of Pedro Feliciano, suggesting the wrong Mets icon's image is gracing the spring-training caps this year. … Mets Police reports the Amazin's have a .684 winning percentage in games in which Dan Twohig has attended and kept score, dating to 1980.
BIRTHDAYS: Jeff Kent turns 45. … Right-hander Mauro Gozzo turns 47.
TWEET OF THE DAY:
As a former valet attendant, I would gladly accept Dark Chocolate Raisinets in lieu of a tip.

— Collin McHugh (@Collin_McHugh) March 7, 2013
YOU'RE UP: Whom should Joe Torre have chosen to replace Mark Teixeira on Team USA's roster: Ike Davis, Paul Konerko, Ryan Howard or Eric Hosmer?