PORT ST. LUCIE, Fla. -- Matt den Dekker added a homer to his Grapefruit League résumé to go along with his highlight-reel catch, when he reached over the wall to take away a long ball from Washington's Anthony Rendon.
Den Dekker went deep against Mitch Talbot in the fifth inning of the Mets' 4-1 Grapefruit League win against the Miami Marlins at Tradition Field on Thursday.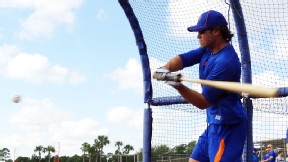 Adam Rubin
Center field prospect Matt den Dekker
Den Dekker actually hit 17 homers apiece each of the past two seasons in the minors.
So, coupled with his Gold Glove-caliber ability in center field, why won't he receive more consideration for an Opening Day roster spot?
Well, first of all, den Dekker is not on the 40-man roster. But, more importantly, den Dekker needs to demonstrate an ability to make more contact.
The former fifth-round pick from the University of Florida struck out 154 times in 533 at-bats between Double-A Binghamton and Triple-A Buffalo last season. The strikeout total was the most by a Mets farmhand and 21st most in the minors overall. And although he hit .340 in the first half of the year in the Eastern League, he hit only .220 with a .256 on-base percentage after the promotion to Triple-A.
Den Dekker needs to drastically cut down on swinging at balls spinning downward into the dirt, the same thing that Kirk Nieuwenhuis and Lucas Duda also need to remedy.
"If I thought he could hit 17 homers in the big leagues in his first year, gosh, if he hit anywhere around .250 he'd be dynamite," Terry Collins said. "One of the things we're working with Matt hard on is a two-strike approach -- cut the strikeouts back so he makes better contact, because he's got such good legs that if he puts the ball in play, he's got a chance to get on base and score runs."
The best-case scenario, although on the ambitious forecasting side, would be for den Dekker to be a 20-homer, 20-steal player in the majors. He's stolen a combined 45 bases over the past two seasons in the minors.
"Don't make a mistake. Go up to this guy. This guy is big and strong," Collins said. "He looks like he's one of those trim guys. This guy is big and strong. He's hit 17 home runs two years in a row, so we know he's got the power."