PORT ST. LUCIE, Fla. -- The only thing that kept Matt Harvey from perfection Thursday was an error by shortstop Omar Quintanilla.
Harvey breezed through 4 1/3 no-hit innings as the Mets beat the Miami Marlins, 4-1, at Tradition Field.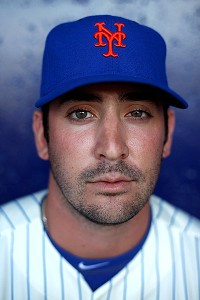 Chris Trotman/Getty Images
Matt Harvey tossed 4 1/3 no-hit innings Thursday.
He required only 48 pitches, 35 of which were strikes, in the dominant performance. Harvey stuck out five Marlins despite the low pitch total.
He was particularly heartened by the economical pitching performance. Five days earlier against the same opponent, Harvey was pulled after 2 2/3 innings with his pitch count at 49 -- one more than Thursday.
In 10 major league starts last season, Harvey averaged 97.8 pitches while not quite logging six innings per outing.
"If this guy pitches 215 innings, that means he's getting deep into the game," Terry Collins said. "And the only way to do that is to do what you saw today, and that is to pitch to contact, know when you've got to get a strikeout, but get some easy outs.
"He's on a mission to be real good. When you bring something up to him, he applies himself. He's in tremendous shape. He was only going to go about five more pitches anyway, but he told me afterward, 'I had 50 left in me.'"
Said Harvey: "After looking at last week's poor strike-to-ball ratio, I definitely wanted to go out and pound the zone."
After studying video of last week's performance, Harvey also concluded he was throwing "across his body" and rushing.
To remedy that, as he has done since high school, he went to the mound Thursday and drew a line in the dirt, pointed toward home, to guide him toward the plate.
"Kind of a mental focus for me," Harvey labeled the practice.
He felt as sharp as he looked against the Marlins, including with his changeup, a solid weapon against the lefty-dominated lineup Miami brought to Port St. Lucie.
"Last year his changeup was inconsistent, even in Triple-A," Collins said. "That was one of the reasons why when I would call Wally [Backman] about how he was doing, one of the first things he'd say is his changeup at times is good, but at other times it's nonexistent."
Said Harvey: "That was something that I was definitely looking at in the video from last week. I was bouncing them a lot. That was across my body and a little quick. So this week I really wanted to stay back and get it out. I threw a lot of good ones today."