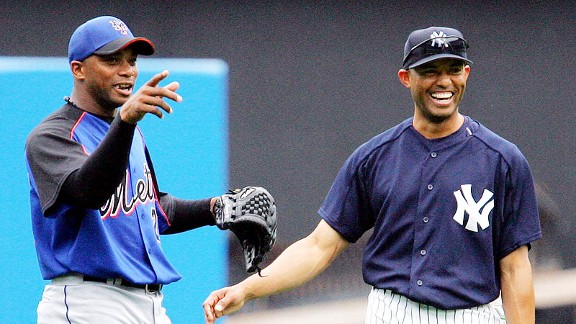 Ron Antonelli/NY Daily News Archive via Getty Images
Mariano Rivera's shared history with the Mets includes notching save No. 500 at Citi Field.
PORT ST. LUCIE, Fla. -- Another retirement tour appears to be making a stop in Flushing.
And if the Mets presented Chipper Jones with a gift in 2012, aren't they now obligated to give Mariano Rivera a parting present, too?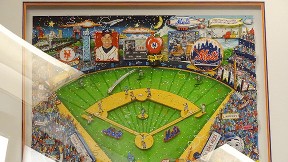 Adam Rubin
The Mets presented Chipper Jones with artwork to mark his last visit to Citi Field as a player.
On Saturday, Rivera plans to announce his retirement after one final season in pinstripes.
Rivera has an MLB-record 608 career saves.
No. 500 came at Citi Field, after which the Mets quietly presented him with the rubber from the mound.
Of course, the Mets decided to present the retiring Chipper with artwork during the Mets-killer's farewell tour last season. The presentation came during a pregame press conference, which was replayed briefly for fans before the game on the scoreboard.
So it stands to reason the Mets, like the rest of baseball, would probably give Rivera something during his farewell tour, too.
The Yankees will play only a pair of Subway Series games in Queens this season, May 27 and 28. The teams play the following two days in the Bronx.
QUESTION: What would you give Mariano Rivera if you were the Mets?