PORT ST. LUCIE, Fla.
FIRST PITCH: The Mets make their longest bus trip so far this spring -- more than two hours to Lakeland, Fla.
Dillon Gee, Bobby Parnell, LaTroy Hawkins and Cory Mazzoni are due to face the Detroit Tigers.
Max Scherzer and Phil Coke pitch for Detroit.
Friday's news reports:
• Matt Harvey tossed 4 1/3 no-hit innings and the Mets beat the Marlins, 4-1, Thursday at Tradition Field. Pedro Feliciano retired the two batters he faced -- both lefties -- during the victory, although his fastball velocity was 82-84 mph. Justin Turner appeared in the outfield in a game for the first time since 2006. Matt den Dekker, who has power in addition to a solid glove, homered.
Read more on Harvey in the Daily News, Record, Post, Newsday and MLB.com.
• Frank Francisco plans to throw from a mound Saturday for the first time since reporting to camp with elbow inflammation. Read more in the Post and Star-Ledger.
• Jenrry Mejia (thyroid) is due to return to camp Friday. He has been cleared to resume baseball. Daniel Murphy (side muscle) is due to swing against a coach. Kirk Nieuwenhuis (knee) ran on a submerged treadmill Thursday.
• Zack Wheeler threw off a mound Thursday for the first time since straining his right oblique eight days earlier. Read more in Newsday and the Daily News.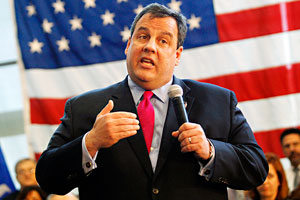 Jessica Kourkounis/Getty Images
New Jersey Gov. Chris Christie likes the Mets' growing young nucleus.
• New Jersey governor Chris Christie plans to be at Citi Field on April 1 as the Mets face the San Diego Padres.
"I'll be there on Opening Day," Christie told SiriusXM's Mad Dog Radio channel, according to the Star-Ledger. "I like our young pitching. I think our young pitching has a lot of potential. I love Ike Davis and David Wright, obviously. And I like Daniel Murphy. So I think we've got some pieces. [Travis] d'Arnaud, the rookie catcher, I think we'll see him by midseason.
"But, let's face it, the outfield is challenged. But I think the Mets will have a lot of payroll come off after this year, and I think next year you'll see them get a lot more aggressive about upgrading the outfield and upgrading the bench. And when you have young pitchers like Matt Harvey and Zack Wheeler and Jon Niese, I think that's a pretty good core to move forward with."
• Mariano Rivera plans on Saturday to announce his retirement at season's end. Rivera notched his 500th career save at Citi Field.
"I have the distinct honor to tell my kids and grandkids one day that I got a walk-off hit against him,'' Wright told reporters, referring to a May 19, 2006 hit. "Obviously that's one of the highlights for me. And for as passionate as New York fans are about the Subway Series, to deliver a walk-off hit against the greatest closer in the game will definitely be a good story for my kids and grandkids one day. It went over Johnny Damon's head in center field."
Read more in the Post.
• Marc Carig in Newsday discusses Greg Burke's decision to become a submarine-style reliever a year ago.
• Columnist Ken Davidoff in the Post suggests the bullpen will determine the difference between the Mets being "mediocre and awful."
• Anthony DiComo at MLB.com profiles Jordany Valdespin.
• From the bloggers … Shannon from Mets Police is not a fan of the World Baseball Classic, but wonders: Who is the bigger fool -- the fool, or the fool who buys the fool's jersey? … The Eddie Kranepool Society selects its favorites for the 25-man roster. … Metsmerized wants no part of any K-Rod reunion.
BIRTHDAYS: Left-hander Willard Hunter, who pitched for the '62 Mets, was born on this date in 1934.
TWEET OF THE DAY:
In 1962,catcher Harry Chiti was traded for himself. My question is who got the better of the deal?

— Jay Horwitz (@Jay_HorwitzPR) March 7, 2013
YOU'RE UP: When Frank Francisco returns, should he automatically take over the closer's role from Bobby Parnell?