LAKELAND, Fla. -- Tyler Collins produced a tiebreaking homer against prospect Cory Mazzoni in the eighth and the Detroit Tigers beat the Mets, 3-2, Friday at Joker Marchant Stadium.
Detroit had pulled even at 2 an inning earlier on an unearned run. Josh Edgin seemingly had coaxed an inning-ending fielder's choice, but shortstop Wilfredo Tovar errantly dropped a toss from second baseman Reese Havens.
Game tidbits:
STARTING SOMETHING
The Mets have been quiet against opposing starting pitchers this spring training.
'SPIN CITY: It's getting hard to fathom Jordany Valdespin not making the Opening Day roster, even if Terry Collins cautioned, "It's March 8. I'll wait."
Making his first spring-training start in the outfield, Valdespin delivered a solo homer in the seventh against right-hander Jose Ortega to give the Mets a 2-1 lead. Valdespin is now hitting .333 with two homers in Grapefruit play.
Officially, Collins said he's "still searching" for the right answers in the outfield.
After exclusively playing second base early in camp, Valdespin relieved Marlon Byrd in center field on Wednesday against Venezuela. This time, Valdespin started in left field.
Because he cannot be viewed as a backup shortstop, Valdespin making the Opening Day roster likely would displace Kirk Nieuwenhuis or Justin Turner. Nieuwenhuis was 0-for-his-last-17 when he suffered a bone bruise in his left knee. Turner, whom Collins likes, is not held in the same regard by the front office.
"He's played very well," Collins said about Valdespin. "… He likes to play. He loves to be on the stage. He plays with some flair. There's nothing wrong with that. But he certainly plays with some energy, too. We need that."
NO-HIT WONDER: Tigers starter Max Scherzer departed after 2 2/3 no-hit innings, having struck out six and walked three. The Mets put only two balls in play against Scherzer -- both outs by Valdespin.
The Mets have not fared well thus far in spring training against opposing starters -- which is generally more reflective of the caliber of pitching they will face during the regular season.
This spring, opposing starting pitchers have a 2.91 ERA against the Mets, who have produced only 24 hits in 34 innings.
The Mets did not muster a hit Friday until Zach Lutz delivered an RBI single in the fourth against Luke Putkonen.
Putkonen hit three batters during his appearance, including Travis d'Arnaud.
GEE FIZZ: Dillon Gee walked three and struggled to locate his fastball. But buoyed by a double play and a baserunning miscue, Gee limited the Tigers to one run and one hit in four innings. The lone hit came on an RBI double by Matt Tuiasosopo, who played for the Mets' Triple-A Buffalo affiliate last season.
By one count, only 26 of Gee's 57 pitches were strikes.
"Other than the walks, though, I felt better out there than I felt in Jupiter," Gee said, referring to his previous outing against the Miami Marlins, when he tossed three scoreless innings. "Obviously I never want to walk that many guys. But I was talking to Dan [Warthen] about this: I feel like I'm really close. I felt pretty good today.
"I can just kind of tell I'm real close to clicking. Obviously the fastball was up again today most of the time, but I threw some good ones. I was throwing the changeup behind in the count, [and] sliders and stuff like that. Throwing secondary pitches behind in the count and getting the contact that I want in their count is big right now. I don't know if it's just a sixth sense, but I can feel I'm pretty close."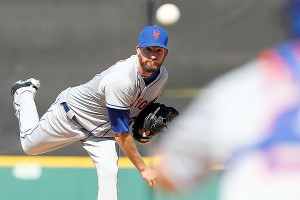 Kim Klement/USA TODAY Sports
Bobby Parnell tossed a 1-2-3 sixth inning.
CLOSER CALL: Bobby Parnell tossed a 1-2-3 sixth.
"I love his demeanor on the mound," Collins said. "He goes after hitters like he knows he's going to get them out. He doesn't get caught up if he gives up a hit. And we know he's still got the good arm if he needs to reach back and have some extra."
Said d'Arnaud: "Unfortunately he couldn't locate some of his fastballs, but he kept his composure when he needed to and got a few pitcher's-best-friend double plays."
HAWK SIGHTING: Reliever LaTroy Hawkins made his first Grapefruit League appearance. He allowed a pair of singles but no runs in the fifth.