PORT ST. LUCIE, Fla.
FIRST PITCH: Jeremy Hefner, the alternative if Johan Santana is not ready for the beginning of the season, gets the start as the Mets welcome the Houston Astros to Port St. Lucie for a 1:10 p.m. game today.
Also scheduled to pitch: Brandon Lyon, Darin Gorski, Jeurys Familia, Bobby Parnell and Robert Carson.
Parnell will be working back-to-back days for the first time in spring training. He tossed a 1-2-3 frame Friday against the Detroit Tigers.
Right-hander Alex White starts for the Astros, who now belong to the American League West.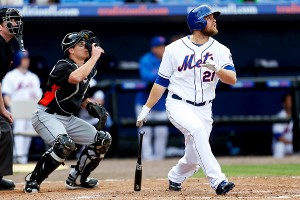 Chris Trotman/Getty Images
Lucas Duda's window to prove himself is closing, so he must have a big 2013.
Saturday's news reports:
• Columnist Joel Sherman in the Post notes this is a make-or-break year for Lucas Duda, who must show something offensively. Writes Sherman:
Plenty of teams will throw away defense for power, specifically lefty power -- think the Tigers with Prince Fielder, the Phillies with Ryan Howard, the Diamondbacks with Jason Kubel. But it can't be a rumor, a promise of those 30-35 homers. And it can't be a continuing victim of ebbing confidence and nuisance injuries -- two issues that have handcuffed Duda, up to and including this spring.
Sherman notes the issue that caused Duda to be scratched earlier this spring training and was not disclosed at the time related to his eye and "turned out to be nothing."
• Jordany Valdespin continued to stake his claim to an Opening Day roster spot with a solo homer, but Cory Mazzoni surrendered a tiebreaking long ball to Tyler Collins in the eighth and Detroit beat the Mets, 3-2, in Lakeland, Fla., on Friday. Read more in the Star-Ledger, Daily News, Post and Newsday.
• Travis d'Arnaud was hit just below his right elbow while batting Friday and was removed from the game with forearm tightness. Read more in the Daily News.
• Dillon Gee walked three but surrendered only one hit and one run in four innings. Contrasting his feeling now to last season, before surgery to repair an artery that was obstructed with a clot, Gee said: "I think I had just been pitching with it for so long that I just threw. I felt like crap some days and I didn't feel like crap some days. You just kind of get used to pitching and not feeling so good. Looking back, I felt pretty normal in my mind. A lot of people deal with dead arm, but I had it almost every day." Read more in the Star-Ledger and Times.
• R.A. Dickey surrendered four runs in four innings and David Wright went 2-for-4 with an RBI as Team USA dropped its World Baseball Classic opener 5-2 to Mexico at Chase Field. Read more in the Times and Newsday.
• Jenrry Mejia, who was checked out for a hyperactive thyroid, said he needs to limit his fish intake but is OK to resume baseball. Read more in the Times.
• Dan Martin in the Post talks expectations for Ruben Tejada.
"I'm not talking [Derek] Jeter hitting .320, but there's no reason he can't hit .290 and get his walks and play his position well," Terry Collins told Martin. "He's got a great arm. But I don't want to compare him to anybody because everyone talks about [Jose] Reyes. Reyes is a sensational player. This kid is a good player. Last year, he just tried to play his game and that's what he has to keep doing."
• Mike Kerwick in the Record profiles Josh Edgin.
• Jared Diamond in the Journal notes there are six players in Mets camp with animal-sounding aspects to their surnames: John BUCK, Marlon BYRD, Tim BYRDak, Collin COWgill, LaTroy HAWKins and Brandon LYON. Writes Diamond:
When presented with this bit of life-altering information, the players reacted in various ways. There was perplexed apathy ("Let me guess -- that's going to be a story," Hawkins said), bemused curiosity ("Wow, that's colorful," Cowgill said) and appreciative laughter ("Ha, wow, I actually never noticed that before," Byrd said).
• From the bloggers … Faith and Fear in Flushing notices what ballplayers do in spring training is eerily similar to what house cats do all year long. … Metsmerized chats with 2012 12th-round pick Rob Whalen, who grew up a Mets fan. … Mets Police asks, "What was your favorite night at the ballpark?"
BIRTHDAYS: C.J. Nitkowski, who appeared in five games for the Mets in 2001, then pitched in the minors for the organization last season, turns 40.
TWEET OF THE DAY:
Just saw a FL state trooper pull over an exact replica of the Batmobile. Everyday's an adventure in Port St. Lucie!

— Collin McHugh (@Collin_McHugh) March 8, 2013
YOU'RE UP: Do you believe Lucas Duda will have a big year? Or will he flop?