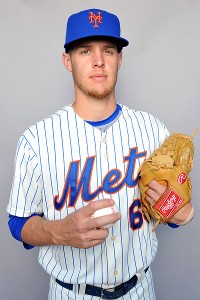 Steve Mitchell/USA TODAY Sports
Zack Wheeler is due to pitch in a simulated game Sunday.PORT ST. LUCIE, Fla. -- Eleven days after suffering a right oblique strain, Zack Wheeler is due to pitch in a game Sunday.
Wary that pitching Wheeler in a Grapefruit League game might cause him to overexert himself, the prized prospect instead is scheduled to pitch in a simulated game back in Port St. Lucie.
Wheeler had been scratched from a Feb. 27 game against the St. Louis Cardinals after straining the oblique swinging in a cage pregame.
• Kirk Nieuwenhuis (left knee bruise) again ran on a submerged treadmill Saturday. Terry Collins said he hopes to get Nieuwenhuis back in a game Wednesday, after a team off-day.
"It's felt better every day," Nieuwenhuis said. "I ran in the pool for about 10 minutes today. It's a good sign, for sure. I'm just waiting to get the last bit of inflammation out of there and we'll go from there."
• Dan Warthen hoped Frank Francisco (elbow inflammation) would get on a mound for the first time in spring training Sunday, although the pitching coach did not commit -- likely an indication that Francisco's timetable has been frustrating to pinpoint.
• Collins hoped Daniel Murphy (strained intercostal muscle on right side) would be in a Grapefruit League game by the end of next week. Murphy continues to hit in a cage.