PORT ST. LUCIE, Fla. -- Lucas Duda went 3-for-3 with two RBIs and Jeremy Hefner tossed three scoreless innings as the Mets beat the Houston Astros, 9-6, Saturday at Tradition Field.
Marlon Byrd, Duda and John Buck all doubled in a three-run third inning that chased Astros starter Alex White.
Game tidbits:
WEB GEMS: Matt den Dekker's collection of highlight-reel plays, which included taking a homer away from Washington's Anthony Rendon earlier in spring training, has a new addition. Den Dekker slid on the warning track in left-center to rob Trevor Crowe of an extra-base hit in the third inning.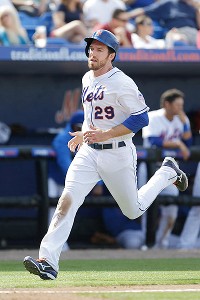 Jeff Robertson/Associated Press
Ike Davis went 2-for-2 and scored three times Saturday.
Although den Dekker is very likely ticketed for Triple-A Las Vegas to open the season, a scout assigned to the Mets said the prospect might be the top outfielder in the NL East -- from a defensive perspective. Or, at least on par with B.J. Upton and Denard Span.
"Like Ozzie Smith out there," the scout said, referring to the defensive prowess of the Hall of Fame shortstop.
Smith, it turns out, was one of den Dekker's favorite players growing up.
"I think it was the flips that he did," den Dekker said.
Meanwhile, Crowe had an unlucky day. In his next at-bat, he appeared poised to single to right field. But Ike Davis ranged to his right to stop the hard grounder. Davis then shoveled the ball on his backhand while on the ground to Darin Gorski covering first to retire Crowe.
HEFTY PERFORMANCE: Hefner erased a Fernando Martinez single in the first inning by coaxing a double play from Carlos Pena. He allowed only one other batter to reach, on a walk, in three scoreless innings.
Hefner appears destined for the Opening Day roster -- and a spot in the rotation if Johan Santana has a prolonged absence. The Mets do not need a fifth starter until April 7, buying time for Santana to be ready without breaking camp with the team.
Hefner now has a 2.61 Grapefruit League ERA.
"Obviously it hinges on Johan, how he feels and that type of thing," Hefner said about working out of the rotation. "I can only control me and control my approach and my bullpens. And that's what I'm going to continue to do and let Johan rehab or whatever he needs to do to get ready to pitch."
HERE'S CARSON: Left-handed reliever Robert Carson surrendered a leadoff walk, then a two-run homer to Pena in the fourth.
Pedro Feliciano is the primary contender to join Josh Edgin as a second lefty in the Mets' bullpen. The likelihood is Carson gets more seasoning with Las Vegas regardless of Feliciano's fate, though.
With Frank Francisco likely to open the season on the DL, Bobby Parnell will close. Parnell should be joined in the bullpen by Brandon Lyon, LaTroy Hawkins, Scott Atchison and Edgin.
The Mets may carry only one left-hander (rather than Carson, Scott Rice, Gorski or Aaron Laffey) if Feliciano does not make it, which could pave the way for both Jeurys Familia and submariner Greg Burke to make the Opening Day roster.
Regardless, scouts have raved about Familia's conversion to full-time reliever and feel like he is a near-lock for the Opening Day bullpen. Having abandoned starting, Familia is now exclusively working from the stretch and has found a consistent release point.
OOOPS: Parnell, working consecutive days for the first time in spring training, was poised to again post a 1-2-3 inning Saturday. However, on a would-be game-ending play, Parnell committed an error and ultimately surrendered an unearned run.
Terry Collins continues to rave about Parnell, including the fact that he sits in the bullpen all nine innings of Grapefruit League games, trying to get in the mindset of a closer.
ON TAP: Bill Parcells is due to attend Sunday's Mets-Cardinals game in Jupiter. The Mets plan to present Parcells with a signed jersey as a gift for being selected to the NFL Hall of Fame. … Collins said the Mets will start having pitchers hit Wednesday, after a team day off.