PORT ST. LUCIE, Fla. -- Terry Collins had been open in noting top prospect Zack Wheeler was unlikely to make the Mets' Opening Day roster. Still, Wheeler confessed, he felt disappointment when he was summoned into the manager's office Sunday morning with Collins as well as Sandy Alderson and Dan Warthen and was officially told he was being reassigned to minor league camp.
Wheeler's primary regret: A right oblique injury prompted him to be scratched from a start 11 days ago against the St. Louis Cardinals and limited him to one Grapefruit League appearance.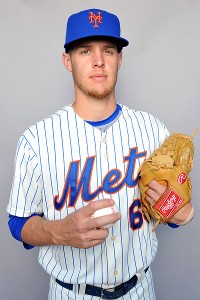 Steve Mitchell/USA TODAY Sports
Zack Wheeler was sent to minor league camp Sunday."I don't think the injury helped," Wheeler said.
Wheeler headlined a wave of cuts Sunday at Mets camp. Also dispatched to the minor league side: left-hander Darin Gorski, right-handers Gonzalez Germen, Collin McHugh, Elvin Ramirez and Hansel Robles, infielders Reese Havens and Wilfredo Tovar, and outfielders Juan Lagares and Cesar Puello. The Mets now have 45 players in major league camp.
Wheeler tossed two scoreless innings against the Washington Nationals on Feb. 23 in his lone Grapefruit League appearance. He threw live batting practice Sunday -- his first time facing batters since suffering the oblique strain while swinging in a cage.
"I only got out there one time," Wheeler said. "That's what I'm kind of mad about. I wanted to sort of get out there and prove myself. I hope I'll be up here soon."
Wheeler said the message from Mets brass in the Sunday meeting was to "just keep working down there, make us pull you up, and we'll be looking for you soon."
When might Wheeler reach the big leagues?
That should be dictated by a combination of factors, including an injury at the major league level creating a need and Wheeler's performance at Triple-A Las Vegas. But the general timeline may match the path Matt Harvey followed last season. Harvey's major league debut came July 26, 2012.
Business factors play a part.
If Wheeler stays in the minors for the first 20 days of this season, he will avoid getting credited with a full year of major league service, delaying his free agency from after the 2018 season until after the 2019 season. Also, the Mets can avoid making Wheeler a "Super 2" during the 2015-16 offseason -- which would result in an extra year of arbitration eligibility -- by ensuring he is not in the first 22 percent of rookies called up this year.
One major league executive estimated the cutoff date for the extra year of arbitration eligibility may fall around June 15, so a promotion for Wheeler may be stalled until after that date. The same logic applies to catching prospect Travis d'Arnaud.
"That was my goal -- to make it out of spring training. I've got another goal, to be up here as soon as possible," Wheeler said. "When I'm ready I'll be up here. Hopefully that will be sooner than later."
Wheeler, who lockered between Johan Santana and Harvey in the clubhouse, said he learned "how to conduct yourself around here and stuff like that."
D'Arnaud remains in major league camp, but he is expected to be dispatched to the minors later this month. The duo should form the Opening Day battery for Las Vegas on April 4 at Sacramento.
Wheeler went 2-2 with a 3.27 ERA in six late-season starts at Triple-A Buffalo in 2012.
"Just putting everything together, just getting my command ready to go every inning, every pitch," Wheeler said about what he will polish in Triple-A. "Just refining everything, I guess."
He concluded: "All the starting pitchers over here have to start getting stretched out now. So we -- us minor league pitchers -- have to split ways and get ready for our season."