PORT ST. LUCIE, Fla.
FIRST PITCH: The Mets enjoy their second straight Tuesday off-day today.
Meanwhile, in Miami, David Wright and Team USA open second-round play in the World Baseball Classic. The American squad faces Puerto Rico at 8 p.m. at Marlins Park.
When the Mets regroup Wednesday, Matt Harvey will start against the Washington Nationals in Viera, Fla.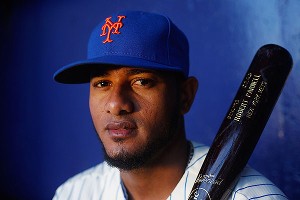 Chris Trotman/Getty Images
Jordany Valdespin is never dull.
Tuesday's news reports:
• Jordany Valdespin tweeted that nobody can stop him. Then, Justin Verlander did, in a manner of speaking. After Valdespin opened Monday's game against the Detroit Tigers with a homer, he was plunked in the groin with a 94 mph fastball in the fifth inning. He was not wearing an athletic supporter.
Valdespin indicated afterward he was fine. His performance appears to be making him a shoo-in for the Opening Day roster, seemingly over Kirk Nieuwenhuis.
As for Valdespin getting hit by a pitch, Valdespin will be susceptible for more reason than his brashness.
"Valdespin will continue to get hit because he dives into the plate and he jumps at the pitcher, which prevents him from getting out of the way of inside pitches," a scout said. "It had become a regular occurrence, and won't change until Valdespin tones down his hitting approach."
Writes columnist John Harper in the Daily News regarding Valdespin:
Jordany Valdespin makes the Mets nervous, mainly because they don't trust him with a glove on his hand or a tweet-dispensing iPhone within reach. Of course, he also makes their eyes light up at times with his ability to turn on a fastball -- or, as was the case Monday, the Justin Verlander changeup that Valdespin launched over the right-field fence leading off the game against the Tigers.
For a team that is expected to struggle to score runs, in fact, the Mets can hardly ignore Valdespin's offensive potential. They're going to have to find a way to get his bat in the lineup, at least against right-handed pitching.
Read more in the Post, Daily News, Record, Star-Ledger, Newsday and MLB.com.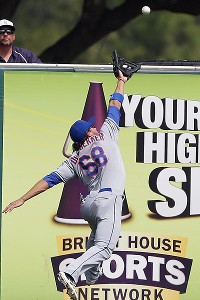 Carlos Osorio/Associated Press
Matt den Dekker had a near-miss on this shot to the track in right-center Monday, but later came up with another stellar grab.
• Jonathon Niese, in line to become the 22nd Opening Day starter in franchise history, limited the Tigers to one hit and four walks in 4 2/3 scoreless innings Monday. Jenrry Mejia rediscovered his cutter and tossed a scoreless frame. Matt den Dekker had another highlight-reel catch and drew a comparison to Jacoby Ellsbury for his fielding, but den Dekker also struck out twice against Verlander. The Mets ultimately beat Detroit 11-0 behind homers from Brandon Hicks, Brian Bixler and Valdespin. Read more in Newsday, the Post, Record and MLB.com.
• Read more on den Dekker's growing catch collection in the Daily News, Star-Ledger and Journal.
• Nieuwenhuis, whom the Mets hoped would be ready to return to Grapefruit League action Wednesday, will take a little longer before entering a game. Terry Collins indicated Nieuwenhuis instead should get onto the field and perform baseball activities tomorrow for the first time since suffering a bone bruise on his left knee sliding nine days ago. Daniel Murphy (side muscle) remains on target to enter Grapefruit League action late this week, Collins said. Read more on Murphy in the Post and Nieuwenhuis in the Times.
• Collins confirmed Jeremy Hefner is the rotation alternative to Johan Santana, who appears destined to open the season on the disabled list.
• Pedro Feliciano appears the wild card as the Mets try to assemble a bullpen. With Frank Francisco likely to open the season on the disabled list, Bobby Parnell, Josh Edgin, Brandon Lyon, LaTroy Hawkins and Scott Atchison appear safe bets. That seemingly leaves one or two spots, depending on Feliciano's fate. Jeurys Familia has pitched so well, repeatedly getting groundballs with his sinker, it is hard to fathom he is left off. So submariner Greg Burke's fate may be tied to whether Feliciano can prove he is worthy of a roster spot.
Of course, Burke over Feliciano would give the Mets only one lefty reliever, so Robert Carson cannot be entirely written off, even if the organization believes he needs more Triple-A seasoning.
Andrew Keh in the Times notes the Mets are deferring to veterans with track records in the bullpen.
• Mark Herrmann in Newsday asks catchers how they settled on that position. "Honestly, I just got thrown back there when I was 13 or 14," Travis d'Arnaud told Herrmann. "I pitched and played shortstop. But one of my teammates threw hard and somebody said, 'Trav, can you handle this?' I said sure."
• Will the Mets lose more than R.A. Dickey's production with his trade to the Toronto Blue Jays? Michael Salfino in the Journal notes Mets starters who pitched against the same team as Dickey the following day had a 2.38 ERA in 2012. Writes Salfino:
If this phenomena is to be believed (the Dickey hangover didn't exist in 2010 and 2011), then there's reason to believe the rest of the Mets staff will see some drop-off this season. Though Jonathon Niese had the most starts after Dickey (seven, with a 2.34 ERA), the effect was staff-wide. Even Jeremy Hefner (2.16 in five post-Dickey starts) and Chris Young (2.08 in two) benefited. And Mets fans are left to imagine if fireballing Matt Harvey can replicate last year's results (1.37 ERA with 25 Ks in 19.2 innings) following Dickey's floaters.
Coincidence or not, the Mets bullpen is bound to suffer without their bearded comrade. Since Dickey joined the Mets in 2010, Mets relievers had a 3.44 ERA after taking the ball from Dickey versus a 4.26 in all other games.
• Right-handed prospect Michael Fulmer will undergo surgery today to repair torn meniscus cartilage. Fulmer, the 44th overall pick in the 2011 draft, went 7-6 with a 2.74 ERA in 21 starts with low-A Savannah last season. "Only a very minor setback in a long career. Looking forward to getting back to 100%," Fulmer tweeted.
• From the bloggers … Mets Police celebrates the overturn of New York City's ban on large sugary beverages with a photo gallery of large Mets cups. … Rising Apple offers competing viewpoints on issues facing the Mets. ... The Eddie Kranepool Society hopes the Mets salute the '73 edition.
BIRTHDAYS: Darryl Strawberry turns 51. … Former Mets reliever Carlos Muniz turns 32.
TWEET OF THE DAY:
@adamrubinespn Spin's statement, "Nobody can't stop me" is actually equivalent to "Everybody can stop me."If only he had self-esteem.

— Dominic Prianti III (@dprianti3) March 12, 2013
YOU'RE UP: Should Jordany Valdespin be an everyday player, at least against right-handed pitching?