PORT ST. LUCIE, Fla.
FIRST PITCH: After enjoying an off-day Tuesday, it's back to business, with Matt Harvey on the mound in Viera, Fla., against a Washington Nationals split squad. Jordan Zimmermann pitches for the Nats in the 1:05 p.m. game.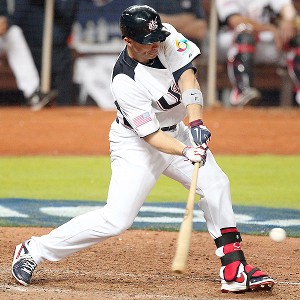 David Santiago/El Nuevo Herald/MCT/Getty Images
David Wright's five RBIs Tuesday included a bases-loaded double in the eighth.
Wednesday's news reports:
• David Wright drove in five runs, including with a bases-loaded double in the eighth, and Team USA beat Puerto Rico, 7-1, in their opening game of the second round of the World Baseball Classic.
Wright is 7-for-16 (.438) with 10 RBIs in four WBC games. Team USA next plays the Dominican Republic on Thursday, with the winner earning one of the Miami bracket's two berths in the finals, which will be held in San Francisco.
"Obviously the adrenaline gets pumping for this tournament," Wright said. "You wear that uniform, you want to go out there and represent your country. Hitting in this lineup is ridiculous. You have some of the best hitters in the game, and it creates some matchup problems."
Read more in the Daily News, Newsday and Post.
• Anthony Rieber in Newsday notes the Mets and Yankees both open at home on April 1 shortly after 1 p.m.
"Our feeling is that while it's not ideal to have both teams opening at home on the same day at the same time, it's also an interesting opportunity to have the entire city and the surrounding area celebrate Opening Day in New York regardless of which particular team you follow," Mets executive VP David Howard told Rieber. "We think there's actually some upside to it even though, again, we wouldn't have chosen it."
Howard added that the Mets did not consider changing their game time to avoid a direct conflict.
• Frank Viola tells Dan Martin in the Post that Harvey, at least demeanor-wise, reminds him of a young Roger Clemens. "On the field, you knew Roger was the man and he showed you why he was the man," said Viola, who was Clemens' teammate for three seasons with the Boston Red Sox. "Matt's the same way. Off the field, that's a different story. I don't know Matt's personality very well, but when I got here, he stood out immediately and he's set the precedent for what's going on here."
• Kristie Ackert in the Daily News chats with Jeremy Hefner, who is slated to step into the rotation for Johan Santana. Santana was at the Mets' complex during Tuesday's off-day, but did not throw. Santana does expect to throw at the team's facility today.
• Mike Vorkunov in the Star-Ledger profiles Marlon Byrd, who is hitting .348 this spring and is due to be one of the outfielders the Mets take north, seemingly with Lucas Duda, Collin Cowgill, Mike Baxter and Jordany Valdespin.
• Mike Puma in the Post discusses Matt den Dekker's offense. As for his fielding gems, den Dekker tells Mike Kerwick in the Record: "There's a lot of good center fielders out there, a lot of good players. I just think I'm getting a lot of opportunities to show it out there -- a lot of balls in the gaps that I can go get. I'm just trying to do my part out there."
• 2012 first-round pick Gavin Cecchini donated $10,000 to Hurriance Sandy relief, writes the Daily News.
• From the bloggers … Dan Twohig at Mets Police advocates turning the World Baseball Classic into The Midseason Classic. … Rising Apple examines the Mets' inability to maintain a consistent Triple-A affiliate.
BIRTHDAYS: Johan Santana turns 34. … Terry Leach turns 59.
TWEET OF THE DAY:
Hey mom, I get to go to work with #CaptainAmerica everyday! That's pretty cool!

— Justin Turner (@redturn2) March 13, 2013
YOU'RE UP: Should David Wright be named captain of America?