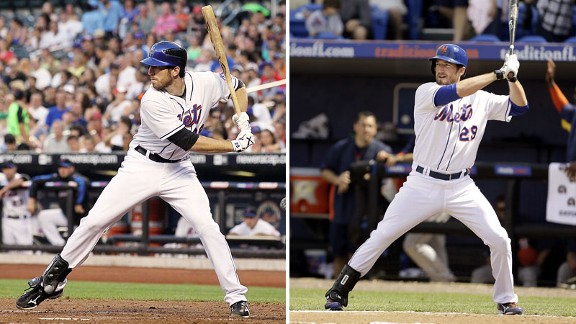 Getty Images/AP Photo
In 2010 (left) Ike Davis starred versus lefties. He's trying to return to that in 2013 (right).What's the next step for Ike Davis as a major-league hitter?
Despite his 32 home runs, Davis hit a meager .227 with a .308 on-base percentage in 2012, largely thanks to a horrendous start.
Davis hit .264 with a .351 on-base percentage as a rookie in 2010, his only other full season. Despite a home run rate that wasn't as good as 2012's, Davis was more valuable to the Mets offensively that season.
Ike Davis vs LHP
His weighted on-base average (wOBA), a stat scaled similar to on-base percentage that combines the ability to get on base and hit for power, was .346 in 2010, 15 points higher than in 2012.
We studied Davis' 2010 and 2012 statistical profiles closely and found that his numbers against righties were almost identical. The biggest difference for him came against left-handed pitching. You can see the decline in the chart on the right.
This spring the long, slow swing criticized by scouts and television analysts now seems to be gone.
Terry Collins believes Davis is going to get back to his 2010 success. He's off to a good start this spring-- 12-for-33 with a homer and five walks.
"Ike has spread out his stance a little bit," Collins said. "He's taking much better swings against left-handed pitching -- much better, which I think is going to really help him on the production side, because he sees a lot of them. One of the things he's going to see every time there's a lefty coming in, I'm going to try to make sure he's in that game to see some of them. I just think he's made some good adjustments at the plate."
Looking at the data on a more granular level, what are the things that Davis may have tried to adjust?
Here's a look at what he did in 2010 against lefties that he didn't do as well in 2012.
He took his time
Davis had a propensity for long turns against lefties in his debut season. He saw 4.1 pitches per plate appearance, partly because he missed his fair share of swings and partly because he was a little less aggressive early in the count.
Ike Davis vs LHP
1st 3 pitches of PA
Davis saved his swings in the early part of an at-bat for pitches he really liked -- belt-high and in the strike zone.
As the chart on the right shows, Davis was a more eager swinger within the first three pitches of a plate appearance in 2012.
This paid off with five home runs, but it also had significant repercussions. His ratio of ground balls to line drives, which was 1.4-to-1 in 2010, soared to 8-to-1 in 2012.
He owned the inner half
Davis had a sweet spot against left-handed pitching when he first came to the bigs.
Ike Davis
vs Inner Half or Closer
He liked pitches over the inner half of the plate, or even a little off the inside corner, and it didn't matter whether they came in hard or soft.
He hit them and hit them hard.
That evaporated in 2012, with line drives turning into routine grounders, and swings-and-misses becoming more frequent.
He hit the ball all over
Davis has gradually evolved into the pull-hitter he's known as today.
When he first came up to the majors, Davis hit the ball to the opposite field with a little more regularity. With more pulling came more power and that may have made Davis a little more greedy.
Ike Davis
vs Outside Pitch from LHP
Davis did not hit a home run against a pitch on the outer third of the plate (or off the outside corner) against a lefty in either 2010 or 2012.
But it looks like he tried, given how his ratio of balls pulled compared to balls hit to the opposite field did a complete switcheroo over a two-season span.
Davis' effectiveness when pulling any pitch on the ground or on a line drive declined significantly, perhaps due to opposing infields knowing what was coming when he did so. He went from 11-for-23 when doing so in 2010 to 8-for-38 in 2012.
"Ike declined in his approach and his timing," said a scout for a major-league team. "That's still salvageable though. He needs to regain his plan and hit to both sides of the field."
The next step
For his part, Davis hasn't overthought what his strategy against lefties will be.
"I don't know how to explain it ... It's just whatever I'm seeing better that day. At points last year I'd much rather face a lefty. But then there's points where you don't see them well.
"It doesn't really matter what arm they throw with. It's just how hot you are."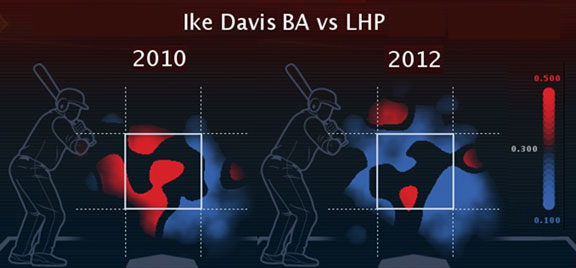 This heat map shows Ike Davis' success and struggles with lefties in his two full seasons.
Adam Rubin also contributed to this story