PORT ST. LUCIE, Fla.
FIRST PITCH: Dillon Gee and the Mets face the Detroit Tigers this afternoon at 1:10 at Tradition Field.
Detroit hit five Mets batters with pitches in two games in the past week, including Jordany Valdespin in the groin.
Right-hander Doug Fister starts for the Tigers. Also due to pitch for the Mets: LaTroy Hawkins, Pedro Feliciano, Greg Burke and Josh Edgin.
Thursday's news reports:
• Johan Santana spoke with ESPNNewYork.com about the state of his shoulder. As for criticism he is not in pitching shape, Santana said: "I've been here every single day. I've been doing everything the way they asked me to. I've been working out, keeping track of everything." Terry Collins said Santana is "not too close" to stepping on a mound. Sandy Alderson and Santana spoke earlier this week to get on the same page. Read more in Newsday, the Star-Ledger, Daily News, Record, Post and MLB.com.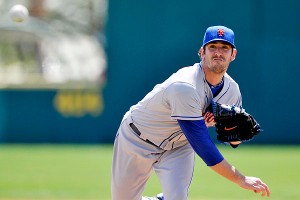 Brad Barr/USA TODAY Sports
Matt Harvey allowed a three-run homer to Bryce Harper but no other damage in four innings Wednesday.
• Matt Harvey surrendered a three-run homer to Bryce Harper and Bobby Parnell allowed four runs (three earned) in an inning of work that included an error by Lucas Duda in left field as the Mets lost to the Nationals, 8-5, Wednesday at Space Coast Stadium. Read more in Newsday, the Post, Record and Daily News.
• If David Wright is dubbed "Captain America," it stands to reason he will be captain of the Mets as well, right? Well, the Mets are being tightlipped, but it looks like that honor will happen once he returns to camp.
Wright and Team USA try to advance to the semifinals in San Francisco when they face Robinson Cano and the Dominican Republic tonight at 7 in Miami. The loser would need to subsequently defeat Puerto Rico in order to join the Final Four at AT&T Park, home of the San Francisco Giants. Writes David Lennon in Newsday:
Wright's teammates had a laugh with the whole Captain America nickname Wednesday morning at the team's breakfast meeting. Instead of the usual place-setting with his name, Wright's card had his head superimposed on the costumed body of Captain America.
"They were having fun with it," Wright said. "I think they're about as tired of it as probably everybody else is. It's a cool superhero, so I'm thrilled about that, at least."
One person who hopes that Wright keeps his comic-book powers for another game is tonight's starter, R.A. Dickey, who didn't have his best knuckleball in the first-round loss to Mexico. As for the nickname, Dickey thinks it's a good fit, but added, "We don't have a shield for him or anything.
"I think he's stepping forward on a team full of superstars," Dickey said, "and kind of becoming that visual leader."
Read more in the Times, Post, Daily News and MLB.com.
• Daniel Murphy (side-muscle strain) should play in a game this weekend on the minor league side. … Kirk Nieuwenhuis (bruised knee) may resume outdoor baseball activities today.
• Valdespin said he erred in not wearing a cup -- a mistake he vows never to repeat. Read more on Valdespin in the Journal.
• Jorge Castillo in the Star-Ledger notes Mets pitchers began hitting in Grapefruit League games Wednesday. Writes Andrew Keh in the Times:
As a group, the Mets' pitchers batted .155, the third-highest average in the National League after the Nationals' and the Cincinnati Reds' [in 2012]. And their pitchers boasted the lowest strikeout rate of any N.L. team, at 27.7 percent.
Hitting numbers for pitchers involve small sample sizes -- N.L. teams tend to get just under 400 total plate appearances from their pitchers -- and many circumstantial factors. Owing partly to this, perhaps, the Mets' statistics have varied significantly from year to year.
In 2010, the Mets' pitchers batted .171, the league's fourth-best average. One season later, their .104 average was the league's second worst. Relative to the batting averages of players at other positions, even the highest averages among pitchers seem comically low. But players and coaches insist they matter.
• The Mets have only "marginal" interest in outfielder Brennan Boesch, according to the Post. Boesch was released by the Detroit Tigers on Wednesday. The lefty hitter had a .240 average and .286 OBP with 12 homers in 470 at-bats last season.
• From the bloggers … Shannon from Mets Police isn't having trouble finding 12 seats together for Opening Day and wonders how ticket sales are going. … John Delcos at New York Mets Report makes a case for Matt den Dekker to make the club. … Faith and Fear in Flushing explores the inevitable downfall of Santana -- and every other superstar athlete.
BIRTHDAYS: Reliever Josh Stinson, a waiver claim by the Milwaukee Brewers at the end of last year's spring training, turns 25.
TWEET OF THE DAY:
In case you can't open video,Bucky is wishing his boss Captain America luck tomorrow against the Dominican Republic. twitter.com/Jay_HorwitzPR/…

— Jay Horwitz (@Jay_HorwitzPR) March 13, 2013
YOU'RE UP: What do you make of Jay Horwitz dressing up as Captain America's sidekick Bucky?