LAKE BUENA VISTA, Fla. -- Andrew Brown delivered a tiebreaking RBI single in the eighth and Jamie Hoffmann and Jordany Valdespin drove in runs an inning later as the Mets beat the Atlanta Braves, 5-2, Friday at Disney.
Game tidbits:
HEFTY PERFORMANCE: Jeremy Hefner, who is expected to open the season in the rotation in place of Johan Santana, surrendered solo homers to Juan Francisco and Freddie Freeman but struck out the final six batters he faced.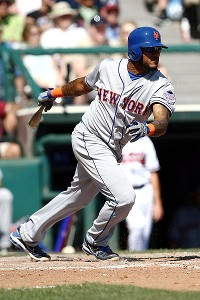 Douglas Jones/USA TODAY Sports
Jordany Valdespin delivers an RBI single in the ninth.
Hefner allowed two earned runs on five hits and a walk while striking out seven in five innings.
Despite the respectable line, Hefner expressed disappointment with his performance, noting his pitches were up in the strike zone and that the Braves hit several other balls hard and in the air.
As for striking out the final six batters he faced, Hefner said: "I think I got mad more than anything. I was less than thrilled about my performance before then. The ball was up, as evidenced by all the fly balls and hard-hit balls. I'm the guy that has to pound the bottom of the strike zone and get groundballs to be successful.
"Giving up home runs is not fun, but they were solos," Hefner continued. "So it kept us in the ballgame."
LAFFEY MATTER: Jenrry Mejia is experiencing forearm tendinitis, although Terry Collins said there is "no damage" with the right-hander's arm or concern about the need for another Tommy John surgery.
Still, with Hefner already penciled into the rotation and Zack Wheeler and Collin McHugh in minor league camp, the Mets need a viable fallback option should something else go awry.
That fallback option will be Aaron Laffey, according to Collins. Laffey finished off Friday's game with 2 1/3 no-hit innings.
Collins said Laffey will start a game next week and get 55 to 65 pitches.
Laffey, 27, went 4-6 with a 4.56 ERA in 22 appearances (16 starts) for the Toronto Blue Jays last season.
"We've got to find ourselves some insurance someplace," Collins said. "Aaron Laffey comes with the ability to start, so we're going to give him a chance. … We've got to make sure we have some depth here with Santana out, with Mejia out. Zack Wheeler is sitting out there. We need some other guys in the mix."
DUDE: Lucas Duda crushed a solo homer in the second inning against Tim Hudson to open the scoring. It was Duda's second Grapefruit League homer. The other long ball came against Miami Marlins left-hander Mike Dunn on March 2.
Hudson allowed two runs in six innings. Brandon Hicks' double in the second scored John Buck and staked the Mets to an early 2-0 lead.