PORT ST. LUCIE, Fla. -- David Wright's replacement at third base lasted only three-plus innings.
After fielding a leadoff grounder in the fourth inning Saturday off the bat of Justin Ruggiano, Justin Turner's left leg buckled on an errant throw to first base. That caused him to put extra pressure on his right ankle, which twisted. Turner eventually walked off the field under his own power, but extremely deliberately and with a limp.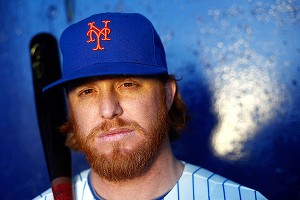 Chris Trotman/Getty Images
Justin Turner
The preliminary diagnosis from the club is a right ankle sprain.
"I think just getting up, going to make a throw, I caught my front spike on the lip of the grass," Turner said. "In order to try to catch my balance, all my weight went on my right foot and I turned it over. I don't think it's too bad, though. I was able to walk off on my own. And it's not too swollen. As long as it doesn't blow up overnight and get too bad, hopefully it will just be a couple of days.
"They had said something about taking an X-ray just to be careful and make sure nothing is there, but I'm not 100 percent sure if I am or not."
Brandon Hicks replaced Turner at third base.
If Wright and Turner were unavailable at the start of the season, Zach Lutz and Hicks would appear the primary considerations to fill in at the position, with Brian Bixler also an option.
Asked about the injury happening with third base potentially opening with the Wright injury, Turner said: "I felt like I was getting pretty good at-bats anyway. Obviously however long it takes to get back out there, missing those days of play, sucks. But I guess the most important thing is getting back to 100 percent and getting ready for Opening Day."
Turner said he gets ankle sprains "all the time" and this one does not seem too severe.
"I'm a redheaded white kid. I don't play basketball," Turner said with a laugh. "But I've done both ankles several times. That's one reason I don't feel this one is too bad, because I've had some pretty bad ones."