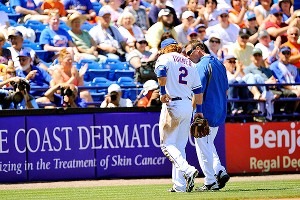 Brad Barr/USA TODAY Sports
Justin Turner limps off the field during Saturday's fourth inning.
PORT ST. LUCIE, Fla.
FIRST PITCH: It's St. Patrick's Day, and the injury-depleted Mets could use some luck of the Irish as they don green uniforms today against the Atlanta Braves at Tradition Field.
Opening Day starter Jonathon Niese opposes right-hander Julio Teheran at 1:10 p.m. Scott Rice, Brandon Lyon, Bobby Parnell and Greg Burke also are scheduled to pitch.
Sunday's news reports:
• Justin Turner, the primary fill-in for David Wright, suffered a sprained right ankle during the fourth inning of Saturday's game. He had an X-ray last night that should be read today, but Turner was confident the injury was minimal.
Wright is due back in camp this morning, after a trip to New York resulted in the third baseman being diagnosed with a "moderate" strain of an intercostal muscle on his left side.
Zach Lutz is due to start at third base this afternoon against Atlanta.
Read more on the third-base injuries in the Star-Ledger, Post, Newsday, Times, Record, Daily News and MLB.com.
• Wright is likely to be named captain before Opening Day, although it has not yet been determined whether he will wear a "C" on his jersey, writes Andy Martino in the Daily News. Jeff Wilpon suggested to ESPNNewYork.com on March 13 that the honor was likely to come before the April 1 opener against the San Diego Padres.
• Columnist David Lennon in Newsday says Wright should have put the Mets, not country first. Writes Lennon:
Mets general manager Sandy Alderson said Thursday was the first he had heard of the injury. Wright indicated that he initially felt the problem as far back as Team USA's early days in Phoenix, which is right around the time Mark Teixeira was sent back to the Yankees after complaining of wrist soreness.
From that point, Wright must have known any whisper of an injury would airmail him right back to Port St. Lucie, without a round-trip ticket. If he did as much as ask Team USA trainer Gene Monahan for a tissue, it was curtains for Wright and the WBC.
So he didn't say anything, and Wright continued to play at such a high level that nobody could have guessed he was hurting.
• Daniel Murphy was too stiff to play in a minor league game Saturday, although Sandy Alderson insisted it was not a setback from his strained intercostal muscle. Read more in the Post.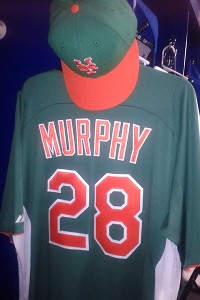 Courtesy of New York Mets
The Mets will celebrate St. Patrick's Day with green uniforms.
• Kirk Niewenhuis (knee) only needs to run the bases before entering a minor league game.
• Frank Francisco feels a "sting" when he exerts himself throwing on a mound. Read more in the Record, Newsday, Daily News and Star-Ledger.
• Shaun Marcum logged four innings and allowed two runs as the Mets lost to the Marlins, 4-2, Saturday. Read more at MLB.com.
• Andrew Keh in the Times speaks with catcher Landon Powell about the death of his 5-month-old daughter Izzy shortly before spring training due to an autoimmune disease. Secondary to the tragedy but still relevant, the Powell family noted that medical bills piled up, especially when Powell was a free agent during the winter and uninsured, so making the major league roster is especially important.
• Willie Randolph, who coached for Joe Torre on Team USA in the WBC, tells Newsday he might still be managing had Carlos Beltran not struck out against Adam Wainwright in Game 7 back in the 2006 NLCS.
"No doubt about that," Randolph said. "I'm not obsessive about it, but it took me a long time to get over that. I still think about that. I know that's the baseball gods. It happens that way sometimes. Carlos had a great year for me. He was one of my best players. He just got a hellacious curveball that he locked up on. Who knows?"
Randolph tells Lennon he did interview for the Houston Astros bench-coach job during the offseason but was not selected.
• Jorge Castillo in the Star-Ledger has a Q&A with Omar Quintanilla, whose performance appears to warrant a spot on the Opening Day roster, despite the infielder not being on the 40-man roster (while Brandon Hicks is). Quintanilla said he had an invitation to play for Mexico in the World Baseball Classic but wanted to stay in camp to make the team.
• Mets farmhand Francisco Pena had an RBI single in the unbeaten Dominican Republic's 2-0 win over Puerto Rico in the WBC. Read more at MLB.com.
• While Detroit Tigers minor leaguer Cesar Carrillo has been suspended by MLB as part of the Biogenesis performance-enhancing drug investigation, Mets farmhand Cesar Puello cannot be similarly banned because he is on the 40-man roster, the Daily News reports.
• From the bloggers … Mets Police looks at what it believes are the Mets' entire collection of St. Patrick's Day uniform designs throughout the years. … Faith and Fear in Flushing wishes the Mets would begin 2013 in modestly encouraging fashion and end it far less discouragingly than has become their custom.
BIRTHDAYS: Former Mets catcher Vance Wilson turns 40. He last played professionally in 2009 in the minors with the Kansas City Royals.
TWEET OF THE DAY:
Watching SNL and I really like Justin Timberlake...seems like a pretty cool guy

— Howard Johnson (@20Hojo) March 17, 2013
YOU'RE UP: Where would the Mets be today had Carlos Beltran connected with that Adam Wainwright curveball?