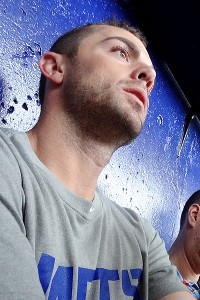 Adam Rubin
David Wright discusses his strained intercostal muscle upon returning to camp.
PORT ST. LUCIE, Fla. -- New York Mets third baseman David Wright offered no regrets Sunday about playing in the Word Baseball Classic, suggesting the injury he sustained in the tournament could have just as easily occurred had he remained in spring training camp.
Wright, who rejoined the Mets on Sunday after being examined by team doctors in New York, added that he is unsure whether he will recover enough to be ready for Opening Day after straining an intercostal muscle on his left side.
"That's looking to predict the future, and I can't do that, and I won't do that, because it's the first day I've been back in camp," Wright said. "So I don't know how I'm going to feel tomorrow. I don't know how I'm going to feel the next day. I'll tell you that's my goal."
Read the full news story here.