PORT ST. LUCIE, Fla. -- Daniel Murphy continued to feel "pretty stiff" on Sunday, two days after playing five innings at second base in a minor league game. So Terry Collins said Murphy will be held out of minor league action until at least Wednesday. The manager added that if Murphy is not in games by next weekend, he is in serious danger of opening the season on the disabled list.
"By next weekend, for sure, if he's not back in a game, you're down to seven days," Collins said. "That's not a lot of time to get somebody that hasn't done anything all spring ready."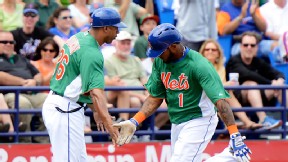 Brad Barr/USA TODAY Sports
Jordany Valdespin, who homered Sunday, may man second and lead off to open the season.
If David Wright and Murphy both open the season on the DL, Collins added, he likely would use Justin Turner at third base and Valdespin at second base to open the season. After Valdespin dabbled in the outfield in Grapefruit League games, Collins has restored him to second base because of Murphy's situation.
Valdespin, who homered to lead off the bottom of the first and reached base in all three of his plate appearances Sunday, also likely would lead off. He also had a leadoff homer against Justin Verlander last Monday.
"If he's in the lineup, that's a good spot for him," Collins said about batting atop the order.
Wright, who like Murphy has an intercostal strain, told Collins he expected to break camp with the club.
"He reassured me today he'll be ready," Collins said. "I'm not doubting him, but we certainly have to have a contingency plan in case he's not. He said, 'I'll be out there.'"
Murphy received a cortisone shot for a strained intercostal muscle on his right side on Feb. 19 and has not appeared in any games.
"He's pretty stiff again today, so [trainer] Ray [Ramirez] just said we better back him off probably through the [Tuesday] day off and see how he is on Wednesday when we get back," Collins said.
Turner sprained his right ankle Saturday, but believed he would be back in a Grapefruit League game no later than Thursday.
"When I got out of bed this morning it felt fine," Turner said. "Not so much the X-rays being negative, because I figured that was going to be the case, but getting out of bed this morning and it not being really stiff on me was the best sign. I'm walking pretty much normal and I have almost all of my range of motion."