PORT ST. LUCIE, Fla.
FIRST PITCH: Matt Harvey starts for the Mets in a 1:05 p.m. game today in Jupiter, Fla., against the St. Louis Cardinals.
Also scheduled to pitch: LaTroy Hawkins, Scott Rice, Bobby Parnell and Josh Edgin.
Right-hander Jake Westbrook starts for the Cardinals.
Monday's news reports:
• David Wright (intercostal strain) returned to camp Sunday and said he had no regrets about participating in the World Baseball Classic. Wright also insisted he was upfront with the organization about his injury, even though it took him a week to report it to Team USA officials. Wright told reporters he is unsure about his availability for Opening Day. But Terry Collins said Wright told him he would be ready for the April 1 matinee against the San Diego Padres at Citi Field.
Read more in the Journal, Post, Daily News, Star-Ledger, Record, Newsday, Times and MLB.com.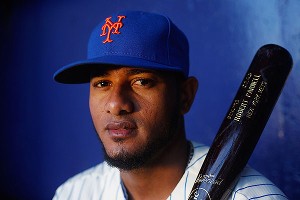 Chris Trotman/Getty Images
Jordany Valdespin could be the Opening Day second baseman.
• Daniel Murphy, who continues to experience stiffness after playing five innings at second base in a minor league game Friday, will not reenter a game until Wednesday at the earliest, Collins said. The manager added that should Murphy not get into a game by the weekend, he likely would open the season on the disabled list. That's because unlike Wright, Murphy has seen no game action during spring training. Murphy received a cortisone shot for a strained intercostal muscle Feb. 19.
If Wright and Murphy both open the season on the DL, Justin Turner should man third base and Jordany Valdespin man second base, according to the manager.
Read more in the Post, Record, Newsday and Star-Ledger.
• Turner hopes to return to game action no later than Thursday. X-rays of his sprained right ankle were negative. Read more in the Star-Ledger.
• Kirk Nieuwenhuis (knee) plans to bat in a minor league game as soon as today, although he has not yet run the bases and would not do so in a game until he accomplishes it under supervision.
• Valdespin homered and reached base in all three plate appearances and Jonathon Niese allowed one run and two hits in five innings, but the Mets lost to the Braves, 2-1, Sunday at Tradition Field. Read more at MLB.com.
• The Onion, a satirical newspaper, skewered the Mets.
• Eric Pfahler at TCPalm.com analyzes whether tax dollars should be spent on spring-training stadiums.
• Colgate beat winless Michigan, 10-7, and Holy Cross beat Navy, 7-5, in a lacrosse doubleheader at Citi Field on Sunday.
• From the bloggers … The Eddie Kranepool Society hopes the Mets have a decent season, but is not optimistic and sees 90-plus losses. … Mets Police asks: When is Game 2 Opening Day? When you open the season in Japan. … John Delcos at The Mets Report looks at Nieuwenhuis' lost spring training. … Metsmerized Online projects what to expect from Shaun Marcum
BIRTHDAYS: No player to appear in a game for the Mets was born on this date, but Adam Levine, Queen Latifah and Brian Scalabrine celebrate birthdays today.
TWEET OF THE DAY:
Got a job doing updates on Regis' new sports talk show on Fox.He thinks I can appeal to the over 65 Jewish audience. twitter.com/Jay_HorwitzPR/…

— Jay Horwitz (@Jay_HorwitzPR) March 17, 2013
YOU'RE UP: Who should most often bat leadoff for the Mets?