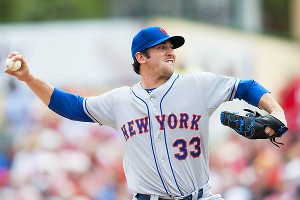 Steve Mitchell/USA TODAY Sports
Matt Harvey limited St. Louis to two runs in 5 1/3 innings Monday.
JUPITER, Fla. -- Matt Harvey allowed two runs in 5 1/3 innings and Travis d'Arnaud went 2-for-3 and scored twice, including the tiebreaking run in the seventh, as the Mets beat the St. Louis Cardinals, 3-2, Monday at Roger Dean Stadium.
"I'm feeling loose and just having fun, not trying to overstress myself and overthink everything," said d'Arnaud, who is hitting .345 with four doubles in 29 Grapefruit League at-bats.
D'Arnaud nonetheless is ticketed for Triple-A Las Vegas to open the season.
Game tidbits:
HARVEY SHOW: Harvey limited St. Louis to six hits and a walk while striking out six in an 80-pitch effort that included 54 strikes. The two runs came in the fourth, on consecutive doubles by Matt Holliday and Matt Adams and a single by Oscar Taveras.
"I was really happy about my curveball," Harvey said. "Unfortunately, I gave up too many hits in my mind, but overall I'm healthy and feeling good. The biggest thing from last year was not having my curveball. I threw a lot of good ones 0-0 [today] and was able to throw it in the dirt when I needed to. That's a big pitch for me. Having that back is definitely a big plus for me."
Harvey now has a 2.95 Grapefruit League ERA. He has struck out 24 in 18 1/3 innings.
"Obviously a strikeout is good here and there," Harvey said. "I'm starting to learn that a groundball is just as good. Going deep into a game is on my mind. If I go seven or eight innings with three strikeouts, that's seven or eight innings. … If the strikeouts come, then they come."
Said d'Arnaud: "He was great. He kept his poise. He had command of all of his pitches. He left a couple of pitches over that resulted in a couple of hits and stuff. I just thought he had a tremendous day, especially with his curveball."
DEEP THOUGHTS: Lucas Duda delivered an opposite-field two-run homer in the fourth against Cardinals starter Jake Westbrook. It was Duda's third Grapefruit League homer.
"One of the biggest things of spring training that we've been trying to get him to understand -- from last August on, even before that -- is the great power he has to center field, to left-center field," Terry Collins said.
CATCHING ON: D'Arnaud opened the seventh with a double against left-hander Marc Rzepczynski and scored on Andrew Brown's ensuing single to give the Mets a 3-2 lead. D'Arnaud earlier reached base and scored on Duda's homer.
Harvey said his rapport with d'Arnaud has steadily improved during spring training.
"It's a matter of working together and getting on the same page," Harvey said. "In three starts with him, it's almost like we've been with each other for a couple of years. I couldn't say anything better about him learning each pitcher, and especially me."
D'Arnaud, while catching, had a play at the plate Monday and described his actions as "instinctive." Collins, who does not want d'Arnaud blocking the plate and risking injury, said he was satisfied the catcher gave the runner Taveras enough of the plate to avoid a full-on collision in the fourth inning.
Said d'Arnaud: "I showed him the plate. Just a bang-bang play. That's what happened."
CLOSE CALL: Bobby Parnell tossed a scoreless ninth, working around a leadoff infield hit that resulted from him being late covering first base. Parnell had allowed six runs (five earned) over his previous three appearances.
"He's working on things," Collins said. "And when things don't go his way it looks like, 'Oh, wow, here we go again.' But when you ask guys to take stuff into a game [to work on], they have to realize you're going to have some bad times to go along with the good times. I think he's throwing the ball very well. I think his demeanor on the mound is outstanding."
SLUMPS: Ruben Tejada went 0-for-4. Since opening Grapefruit League play with a homer against Stephen Strasburg, Tejada is 2-for-33. … Brandon Hicks was 0-for-3 with three Ks. He has 18 strikeouts in 33 at-bats, along with 11 walks.