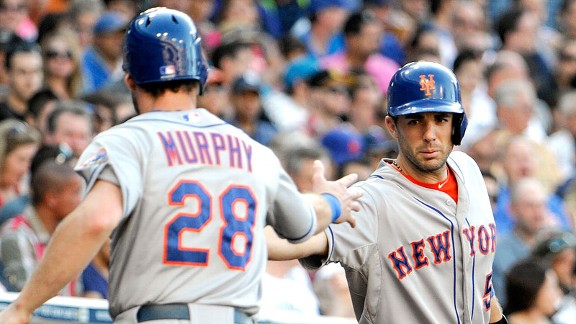 Denis Poroy/Getty Images
David Wright and Daniel Murphy both are dealing with intercostal muscle strains.
PORT ST. LUCIE, Fla. -- The availability of David Wright and Daniel Murphy for Opening Day remains murky as both players continue to deal with intercostal muscle strains.
Wright received a cortisone injection on his left side Friday in New York and still aims to be in the lineup on April 1 against the San Diego Padres at Citi Field. But given Murphy suffered an injury to the same muscle a month ago, received a cortisone shot on Feb. 19 and still is not ready, how confident can Wright be?
"I'm a lot tougher than Murph," Wright deadpanned, "so that doesn't concern me."
More seriously, Wright added, he has played at a high level in the World Baseball Classic, while Murphy has yet to see a pitch in a game during spring training. So the time for Wright to prepare for regular-season games should be significantly condensed compared with Murphy once their symptoms go away.
"I'm in a better position than Murphy, obviously, because I've been playing in games and taking plenty of swings," Wright said. "I'm kind of joking around with Murph, but obviously it's something you want to be cautious with."
Wright experienced discomfort sleeping at night, even a day after receiving the cortisone shot. Now, he said: "It's getting better. … I wish there was more to give. There's not much more right now. It's just doing what the doctor said and getting treatment and resting."
Murphy tried playing in a minor league game Friday, logging five innings in the field without batting, but has been shut down since because he experienced tightness on his right side in ensuing days. He has received treatment for the past three days.
"It got a little tight taking BP," Murphy said. "… We decided it was wise to give it a day or two and try to get it to calm down and go forward from there."
In reality, both players may open the season on the DL, with Justin Turner at third base and Jordany Valdespin at second base on Opening Day.
"It's difficult to be patient, but that's where growth comes from," Murphy said. "… I'm just trying to get on the field as soon as possible. At this point you can't look and see how many at-bats you're going to get when you haven't gotten one yet. You have to get one first. And then we'll see how I feel after that. I want to play Opening Day. That's still the hope. I still think I've got a shot at that."
Wright said his best-case scenario remains Opening Day.
"For me, it's just about getting to where the pain is not there anymore," Wright said. "I mean, I don't think I need that much time after the pain is gone to get ready as far as baseball stuff goes because I played my last game a week ago. So it's not that big of a deal. I want to be ready for Opening Day, but also I don't want to cost myself a month or two during the season because I'm rushing back for Opening Day. But Opening Day is my goal."