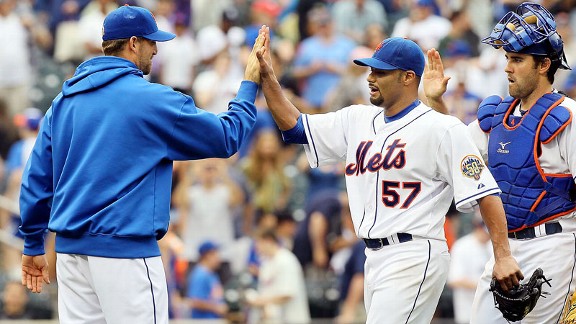 Jim McIsaac/Getty Images
With Johan Santana slated to open the season on the DL, Jonathon Niese gets Opening Day.
KISSIMMEE, Fla. -- Terry Collins said he will officially announce his rotation in the next day or two, but it already has become fairly obvious: Johan Santana will open the season on the disabled list.
Today marks the two-week anniversary of the last time Santana stepped onto a mound. There's no time to go from long-tossing to the Opening Day roster.
A team insider told ESPNNewYork.com this week that the most likely scenario beyond Jonathon Niese on Opening Day had Shaun Marcum in Game 2 and Matt Harvey in Game 3 against the San Diego Padres, followed by Dillon Gee in the series opener against the Miami Marlins. The Mets then appeared leaning toward going back to Niese for Game 5 on regular rest before turning to Santana fill-in Jeremy Hefner.
It's unclear if Marcum's shoulder injury would disrupt the originally intended order.
On Santana, Collins said: "The arm still feels better. So he's continuing to back up [on flat ground]. As his throwing program gets better, he increases his distance and gets closer to the mound."