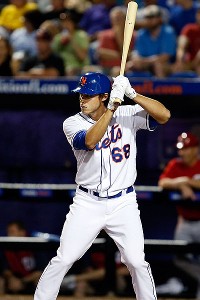 Chris Trotman/Getty Images
Center field prospect Matt den Dekker is now too selective at the plate?
KISSIMMEE, Fla. -- As the Mets try to get Matt den Dekker to make more contact at the plate, Terry Collins noted there's a fine line. Den Dekker, conscious of the Mets' coaching, may be going too far in the other direction in terms of taking pitches.
"I see a guy who has worked hard at trying to have a little more discipline at the plate, almost to a fault at times, where he ends up taking certain pitches he's got to 'hunt,'" Collins said. "The philosophy and the theory we have here about working the count is not taking the first pitch. If that first pitch is the one you want, hit it, and hit it hard. If it's on the corner, if it's in, if it's out, if it's something you're not looking for, that's having the discipline to take it."
Den Dekker entered Wednesday's game hitting .194 with 14 strikeouts in 36 at-bats. He has one homer and three RBIs.
"He's got power," Collins said. "If you cut down on your strikeouts, that means you're putting more balls in play. You put more balls in play, that means you have a chance to hit more homers."
Den Dekker appears ticketed for Triple-A Las Vegas to open the season. Collins implied the demotion may be coming in the next couple of days.
"We're running out of at-bats for 30 guys," Collins said, speaking generally.