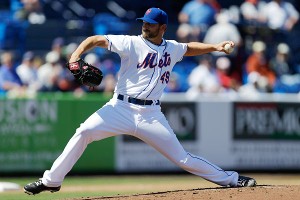 Julio Cortez/Associated Press
Jon Niese officially is the Opening Day starter.
PORT ST. LUCIE, Fla. -- Jonathon Niese officially has been named the Mets' Opening Day starter.
"This guy, as we move forward, is going to be the head of this staff," Terry Collins said.
Said Niese: "It means a lot. I'm real excited, obviously, getting this opportunity. But I'm going to treat it as any other start, just like if I'm the fifth starter, if I'm the second, third, fourth. I'm going to prepare the same and just go out and compete."
Sandy Alderson would not make official that Johan Santana will open the season on the disabled list, but Santana has not thrown off a mound since March 6 and that ultimately will occur.
"I'm not prepared to say that today," Alderson said about Santana being placed on the DL. "That's extremely likely. I'll confirm it when he's put on the DL. Until that time we'll see how he progresses."