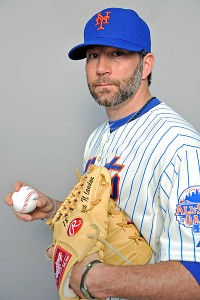 Steve Mitchell/USA TODAY Sports
Shaun Marcum should next pitch in a game Thursday.
JUPITER, Fla. -- The Mets plan to have Shaun Marcum reenter the Grapefruit League rotation Thursday against the Washington Nationals in Viera, setting up the ex-Brewer for the second game of the regular season, a baseball source told ESPNNewYork.com.
Marcum received a cortisone shot in his pitching shoulder Tuesday in New York, which he portrayed as a preventative measure because of a lack of spring-training velocity and tightness. He was scratched from yesterday's Grapefruit League appearance.
Jonathon Niese already has been named the starter for the April 1 opener against the San Diego Padres.
The plan beyond that, assuming Marcum handles next week's activity OK, is for Marcum to pitch the second game of that Padre series, on April 3 after an off-day. Matt Harvey would pitch the following day.
Dillon Gee would then get the Miami Marlins on April 5, in the opener to that series.
The Mets are expected to continue to debate this weekend whether to use Niese again on April 6 before going to Jeremy Hefner. The alternative is to just go straight through the five-man rotation. Because Johan Santana's absence may be prolonged, there may be merit in just letting Hefner pitch Game 5 on turn.
Marcum threw for the first time today since receiving the cortisone shot.