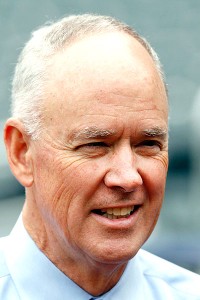 William Perlman/US Presswire
Sandy Alderson indicated he's not in the market for an outfielder.JUPITER, Fla. -- Sandy Alderson said there is no cavalry coming to the rescue in the outfield. That means it will be Lucas Duda, Collin Cowgill, Marlon Byrd, Mike Baxter and Jordany Valdespin in the outfield in some configuration to open the season in all likelihood, as long as Valdespin isn't pressed into infield duty by injuries.
"We're going to go with the guys we have," Alderson told Newsday about the outfield.
Terry Collins confirmed Friday that Byrd should be an everyday player, not in a platoon role, although Collins said he has not resolved how Byrd's time will be spread between right and center field.
"Due to his background ... we need to find out what he brings to the table, because he's got a track record of being a pretty good player, a pretty good offensive player," Collins said. "I want to see early enough what he can do."
The manager, who emphatically said at the start of camp that Duda would be his regular left fielder, was not quite as forceful as camp nears an end.
Asked if Duda remained the everyday left fielder, Collins only said Friday: "That's a possibility."