PORT ST. LUCIE, Fla.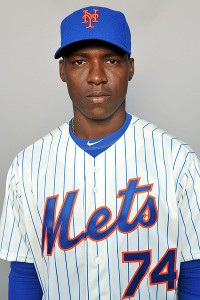 Steve Mitchell/USA TODAY Sports
Rafael Montero returns to Grapefruit League action for a cameo today.
FIRST PITCH: With the Mets short starting pitchers because of Shaun Marcum missing a turn and split-squad games Sunday, right-hander Rafael Montero will be borrowed from minor-league camp for today's 1:10 p.m. game at Tradition Field against the Washington Nationals.
Left-hander Gio Gonzalez starts for the Nats.
Montero, 22, went a combined 11-5 with a 2.36 ERA in 20 starts between Savannah and St. Lucie in Class A in 2012. He had allowed two runs in four innings in Grapefruit League play this spring training before being among the first reassignments to the minor-league side.
Saturday's news reports:
• Shaun Marcum (shoulder) will reenter the rotation Thursday and is lined up for the second game of the regular season, after Jonathon Niese gets Opening Day, a team insider told ESPNNewYork.com. Matt Harvey should get Game 3, followed by Dillon Gee and then Jeremy Hefner. The Mets have not resolved whether to use Niese twice before turning to Hefner, or whether to just go straight through the rotation in order.
• Terry Collins confirmed the obvious: Johan Santana will not break camp with the Mets. Read more in the Record, Newsday, Times, Daily News and MLB.com.
• Sandy Alderson says the Mets will go with what they've got in the outfield and not seek outside help. The projected outfield is Lucas Duda, Marlon Byrd, Collin Cowgill, Jordany Valdespin and Mike Baxter.
"I think we've got a sense of who the five or six are who might be on the team," Alderson told Marc Carig in Newsday. "How exactly they're used is something that we'll talk about over the next week or so. What we have is what we're going to have, and we're not entirely displeased with that."
• Daniel Murphy (side) will not play in a minor league game today as hope continues to fade about him being ready for Opening Day. David Wright (side) did field grounders, run and toss a baseball Friday. Justin Turner (ankle) and Kirk Nieuwenhuis (knee) played in the field for the first time in a minor league game. Read more in Newsday.
• Almost-forgotten Frank Francisco told the Post he will throw live batting practice Sunday and should be in a minor league game midweek. He is due to open the season on the DL.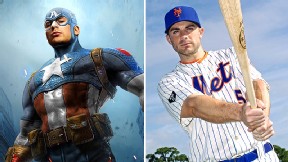 Marvel/Associated Press
Neither Captain America nor David Wright has a "C" displayed.
• John Franco praised the decision to anoint Wright captain.
"You just saw the way David gravitated toward Joe McEwing, who had a great work ethic, and Joe kind of took him under his wing," Franco told Mike Puma in the Post about Wright's first spring training in major league camp. "And you would just see the way David would handle himself around the clubhouse, and he knew exactly where he belonged. He knew what to do and what not to do and he just always had a smile on his face, and to this day he still does have a smile on his face.
"The three previous captains, we came from other organizations," Franco continued. "David has grown with this organization, so he's been here a long time and is deserving."
Teammates also praised the captainship decision, writes Kristie Ackert in the Daily News.
• Andrew Keh in the Times examines the Mets' use of the TrackMan radar tracking system, which can chart a pitchers' release point, angle of his pitches and spin rate. The data system has been used in golf for years. "We don't really know exactly what the teams do with it," TrackMan baseball GM John Olshan told Keh about the data. "We give the rubber. They make the tires."
• Since opening Grapefruit League play with a homer against Stephen Strasburg, Ruben Tejada is 3-for-39. Collins said that Tejada had been trying to pull too many pitches early in spring training.
"Right now I'm thinking more than anything on feeling good instead of the results," Tejada told Jorge Castillo in the Star-Ledger. "I'm trying to take a lot of pitches and make good contact because the results right now don't matter. It's more about feeling comfortable at home plate."
• Josh Rodriguez had a tiebreaking two-run single in the eighth and Niese logged five innings as the Mets beat the Marlins, 4-2, Friday night. Read more in Newsday and MLB.com.
• Jay Horwitz's Twitter account gets more attention in the Times, this time for accidentally slighting R.A. Dickey.
• Jared Diamond in the Journal delves into a baseball clubhouse tradition: crossword puzzles. Hefner, Scott Rice and Scott Atchison are most active.
• From the bloggers … The Eddie Kranepool Society discusses who has to come up big for this season not to be a disaster. … Faith and Fear in Flushing offers praise for Wright ... and Hefner.
BIRTHDAYS: Reliever Mike Remlinger, who pitched for the Mets in the mid-'90s during a 14-year major league career, turns 47.
TWEET OF THE DAY:
Managemen DM 'lifestyle modification' dilakukan saat pertama kali terdiagnosa tnpa komplikasi, tnpa emergensi, tanpa fktr resiko lain #Mets

— Noorcahya Amalia (@ucha_amalia) March 23, 2013
YOU'RE UP: Should the Mets stand pat and make no acquisitions before Opening Day?