PORT ST. LUCIE, Fla.
FIRST PITCH: One week from today, the Mets will awake in New York.
The final seven days of Grapefruit League play kicks off this afternoon with a pair of split-squad games.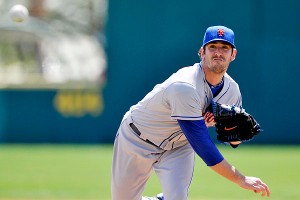 Brad Barr/USA TODAY Sports
Matt Harvey starts today at Tradition Field.
Matt Harvey starts for the Mets at Tradition Field opposite Detroit Tigers right-hander Doug Fister. Also this afternoon, left-hander Aaron Laffey starts in Jupiter against St. Louis Cardinals right-hander Jake Westbrook.
Laffey is the safety net should another member of the rotation (beyond Johan Santana) be unable to break camp.
The Mets will complete Grapefruit League play across the state in Sarasota on Saturday against the Baltimore Orioles.
Sunday's news reports:
• Santana said he is only throwing on flat ground at 90 feet and is unsure when he may pitch. Terry Collins estimated it may take Santana another six weeks. Read more in the Star-Ledger, Daily News, Newsday, Record and MLB.com.
• David Wright hit off a tee and hit flips Saturday -- his first time swinging a bat since the World Baseball Classic. Wright should start getting at-bats midweek. Read more in the Star-Ledger and Record.
Frank Francisco threw batting practice for the first time in spring training. He may enter a minor league game this week. Read more in the Star-Ledger.
Daniel Murphy is eyeing a minor league game today, although Opening Day remains iffy.
Kirk Nieuwenhuis appeared in his first Grapefruit League game in 20 days Saturday.
Read more injury updates in the Post, Daily News and Newsday.
• Lucas Duda had a tiebreaking homer and prospect Rafael Montero tossed 4 2/3 scoreless innings as the Mets beat the Nationals, 3-1, Saturday. Collins said Montero could be in the majors before Sept. 1. Read more in the Star-Ledger, Newsday and MLB.com.
• Zack Wheeler wowed scouts in a minor league intrasquad game.
• Ike Davis does not practice Judaism, but he often is linked to the religion. His father Ron, a former major league pitcher, is Baptist. His mother Millie was raised Jewish.
"It's funny about Judaism," Davis told the Post. "It doesn't matter if you're ultra-religious or not, as long as you know that it's in you or you're a part of it, everyone accepts you."
Said Millie: "I kind of wish I had done more. With Ron in baseball, my mother would call me and say. 'Oh, your sister is having Passover dinner. So what are you doing?' And I'd say, 'Well, I'm driving back from spring training, we'll probably stop at a McDonald's or something.' We had such a crazy lifestyle. The baseball lifestyle is nuts. …
"I just taught them to be really good people and that was my goal as a mom -- not so much religion, but just to know there is something bigger than us. Ike is special. All of my kids are special, but Ike has got this little old soul. He's such a good, good person."
• Mike Puma in the Post notes Tuesday is the deadline to make a decision whether Pedro Feliciano has made the roster. With his fastball only registering 82-83 mph and a 40-man roster spot needing to be opened for him, it may be more sensible to pass and carry Robert Carson.
• Keith Hernandez regrets wearing a "C" on his jersey while captaining the Mets. Read more in Newsday.
• Jorge Castillo in the Star-Ledger has a Q&A with center-field prospect Matt den Dekker, who has the glove and is working on the hitting. Den Dekker produced two-run triples consecutive days last week.
"I'm working on some pitch selection, trying to lay off pitches out of the zone," den Dekker said. "I think I've gotten away from squaring up the pitch that I hit best, so I'm really focusing on that. So if I get a pitch earlier -- a fastball over the plate -- I'm squaring it up and hitting it hard somewhere."
• Columnist Bill Madden in the Daily News cites the managers, including Collins and Joe Girardi, in the final year of deals: Jim Leyland (Detroit Tigers), Charlie Manuel (Philadelphia Phillies), Ron Gardenhire (Minnesota Twins), Don Mattingly (Los Angeles Dodgers), Ned Yost (Milwaukee Brewers), Eric Wedge (Seattle Mariners) and Walt Weiss (Colorado Rockies). There's also Fredi Gonzalez, who has a team option for 2014 with the Atlanta Braves.
• Cody Derespina in Newsday writes about Harvey:
Harvey is one of only eight pitchers in MLB history to throw at least 55 innings, start 80 percent or more of their games and average more than 10 strikeouts per nine innings as rookies. The others: Kerry Wood, Stephen Strasburg, Dwight Gooden, Mark Prior, Hideo Nomo, Brandon Beachy and Yu Darvish.
• Andrew Keh in the Times profiles John Buck.
• From the bloggers … Shannon from Mets Police stared at a poster in his office and realized he was lied to -- the magic wasn't back at all. … Faith and Fear in Flushing is so excited by the season's approach that even the Mets' outfield seems worth rationalizing.
BIRTHDAYS: Shortstop Garry Templeton, who finished his career with the Mets in 1991, turns 57.
TWEET OF THE DAY:
I've been under a rock!! What's up with this twitter business????

— Dillon Gee (@DillonGee35) March 24, 2013
YOU'RE UP: Which left-handed reliever should the Mets carry in the bullpen with Josh Edgin -- Pedro Feliciano, Robert Carson or Scott Rice?