PORT ST. LUCIE, Fla. -- Matt Harvey was charged with four runs (three earned) in five innings and the Mets lost to the Detroit Tigers, 9-4, Sunday at Tradition Field.
In the other split-squad game, Jamie Hoffmann, Zach Lutz and Mike Baxter homered as the Mets overcame a six-run deficit to beat the St. Louis Cardinals, 10-7, in Jupiter. Lutz went 2-for-5 with three RBIs.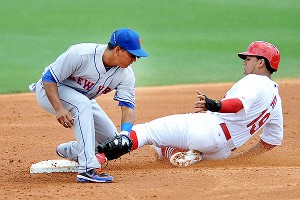 Steve Mitchell/USA TODAY Sports
Ruben Tejada is too late applying a tag on Cardinals center fielder Jon Jay at second base in the second inning at Roger Dean Stadium.
Harvey struck out the side in the first inning, King Austin Jackson, Torii Hunter and Miguel Cabrera. But he walked three and allowed five hits over the next three innings before settling down in the fifth.
"I think it was one of those outings where everything felt really good and I tried to do a little bit too much with it instead of backing off a little bit and executing the pitch and just going with what I had," Harvey said. "Everything clicked toward the end and that's definitely a positive.
"Definitely something I learned is try not to get too pumped up for a team and a lineup like that -- back off and let everything work."
As for his results, Harvey added: "You guys all know me. I'm not happy with the line. But there are definitely positives, and I'm feeling good."
Said Terry Collins: "I just know he was behind a lot in the count, which he hasn't been. He falls behind the first pitch. That's not him."
Primary setup man Brandon Lyon surrendered five runs on six hits while recording only one out.
As for the other split-squad contest, Aaron Laffey allowed four runs on six hits and two walks in three innings against the Cards. He had not allowed a run in nine Grapefruit League innings entering the start. Greg Burke allowed two runs in one inning, while Jeurys Familia tossed two scoreless frames.