PORT ST. LUCIE, Fla. -- The Mets have asked reliever Pedro Feliciano to go to Triple-A for a month to build up his arm strength, and informed Feliciano he will not make the team's Opening Day roster, the left-hander told ESPNNewYork.com.
Feliciano, 36, said he will strongly consider opting out and signing elsewhere, since he believes he is major league-ready now.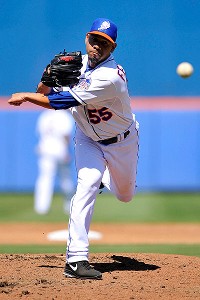 Brad Barr/USA TODAY Sports
Pedro Feliciano will not make the Mets' Opening Day roster.
"They told me I'm going to Triple-A for a month and get my strength back," Feliciano said. "I have to talk to my agent first and then see what we're going to decide."
The Mets' decision came at the deadline to inform Feliciano whether he had made the club. Remaining with the club at the minor league level would obligate the Mets to give him a $100,000 retention bonus because of his veteran status.
Feliciano's spring training was stalled midway through camp by a heart issue that turned out to be non-alarming. His fastball has hovered in the 82-83 mph range.
A former workhorse with the Mets who logged a franchise-record 92 relief appearances in 2010 before an ill-fated two years with the Yankees that included shoulder surgery, Feliciano had a 2.08 ERA and .222 opponent batting average this spring.
"[Batters] have to think about my deception, mechanics-wise," Feliciano said. "You don't have to throw 100 mph. You have to throw a strike to get some lefties.
"They made that decision," he said of the Mets. "I'm going to think about it and see what I decide. Hopefully somebody picks me up. We'll see what happens."
The decision suggests positive news for left-hander Robert Carson, since manager Terry Collins has indicated the Mets intend to carry two left-handers to open the season.
It also alleviates the Mets from having to open another 40-man roster spot in addition to clearing room for Marlon Byrd, LaTroy Hawkins and Scott Atchison. Omar Quintanilla should take the spot lost by Brandon Hicks in the backup shortstop competition.
The other lefty reliever in camp, Scott Rice, is not on the 40-man roster and would be at a decided disadvantage versus Carson. Rice was scratched from Monday's trip to Disney with back tightness to spare a two-hour-plus bus ride.