PORT ST. LUCIE, Fla.
FIRST PITCH: Talk about a pain in the neck.
Shaun Marcum reportedly experienced neck discomfort during a bullpen session Monday, putting his availability for the start of the season in doubt. Add in the issue with Johan Santana and potentially two-fifths of the Mets' projected rotation may be unable to open the season with the ballclub.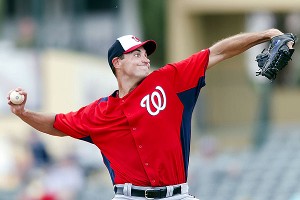 Steve Mitchell/USA TODAY Sports
Chris Young is opting out with the Nats.
One potential solution to buy time for Marcum: The Mets could use a four-man rotation through the first six days of the season because of an off-day. At that point, Marcum would be eligible to return from a backdated disabled-list stint. That also conceivably would allow the Mets to carry an extra bullpen arm, with Jeurys Familia and Greg Burke both making the squad, rather than just one.
The Mets had been confident Marcum would be fine. In fact, late Monday morning, Terry Collins affirmed at Disney that Marcum was set to reenter the Grapefruit League rotation Thursday in Viera against the Washington Nationals.
One pitcher who would be available if the Mets wanted an external option: ex-Met Chris Young. He has decided to opt out of his contract with the Washington Nationals and become a free agent.
"I'm realistic that the roster is full. I understand that," Young told The Washington Post. "We've talked about maybe trying to work something to where I can stay. We're not there right now. But there's interest from other clubs. I just have to weigh all the options and see what's best for me and my family."
The Mets reportedly had a scout at Monday's Nats game that Young started.
Meanwhile, the Mets host the St. Louis Cardinals at 1:10 p.m. today as Jeremy Hefner opposes Adam Wainwright.
Tuesday's news reports:
• Read more on Marcum in the Daily News.
• Pedro Feliciano has been informed he did not make the Opening Day roster. The club asked Feliciano to work at Triple-A Las Vegas for a month. Feliciano is weighing whether to instead declare free agency. Scouts believe Feliciano would have to pitch in the minors initially even if he signed elsewhere, so he might as well stick around. Read more in the Star-Ledger, Record, Times, Daily News, Post, Newsday and MLB.com.
• Mets executive VP for business Dave Howard is leaving the organization to become president of MSG Sports. Read more in the Times.
• Matt den Dekker will not require surgery on his broken right wrist.
• LaTroy Hawkins, although no great surprise, has been informed he made the Mets.
• Dillon Gee tossed six scoreless innings, striking out seven and allowing only two hits, and Andrew Brown, Jamie Hoffmann and Collin Cowgill homered as the Mets beat the Braves, 7-4, Monday at Disney. Read more in the Record, Daily News, Star-Ledger and MLB.com.
• Daniel Murphy played in a minor league game for a second straight day, logging seven innings at second base and going 0-for-5 in a Triple-A game. David Wright similarly had a positive day, taking live batting practice for the second straight day. Read more in Newsday.
• The matchups for the season-opening series between the Mets and San Diego Padres are intended to be Jonathon Niese vs. right-hander Edinson Volquez on Monday, followed by Marcum versus left-hander Clayton Richard on April 3 and Matt Harvey against right-hander Jason Marquis in the April 4 series finale. That is, that was the intent had Marcum not had an issue.
• Ruben Tejada is hitting .085 (4-for-47) in Grapefruit League play, but Collins noted Tejada has a track record at the major league level, so the manager said he is unconcerned. Read more in the Post.
• Tim Byrdak is eyeing late June for a return to the big league club from shoulder surgery.
• Philly.com has an unflattering profile of Lenny Dykstra, relying on a new book. It's not a good day for the subject when the first sentence reads:
Former Phillie Lenny Dykstra is a sexist, racist, sexual deviant and one of the biggest all-around lowlifes you'll ever come across.
At least he was identified as an ex-Phillie and not an ex-Met.
• From the bloggers … At Mets Police, Mike V's Countdown to Opening Day stops at Opening Night 2009, when fans wandered around their new home. … John Delcos at Mets Report examines the Santana issue.
BIRTHDAYS: Infielder Jose Vizcaino turns 45.
TWEET OF THE DAY:
It's been a BIG week for twitter followers. First @jerryseinfeld, then @michelledbeadle. The ball's in your court now, @barackobama.

— Collin McHugh (@Collin_McHugh) March 25, 2013
YOU'RE UP: Who should the Mets place in the rotation if Shaun Marcum is injured -- Zack Wheeler, Collin McHugh, Cory Mazzoni or Aaron Laffey, or sign Chris Young?