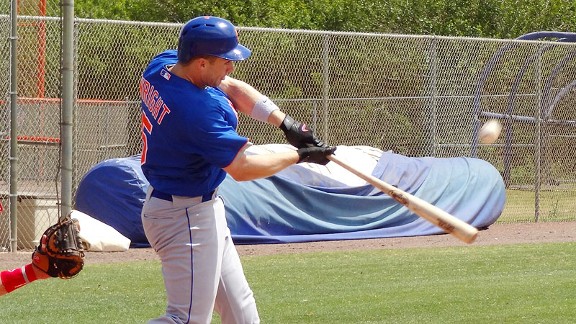 Adam Rubin
David Wright flies out to right field during a minor league game Tuesday.
PORT ST. LUCIE, Fla. -- Shuttling between a pair of minor league fields to maximize his at-bats, David Wright went 1-for-5 as a DH on Tuesday, singling and scoring in his final at-bat. The game was Wright's first since March 12, when he produced five RBIs against Puerto Rico in the World Baseball Classic and cemented his "Captain America" nickname.
Wright expects to play in another minor league game Thursday.
"It felt OK," Wright said. "I haven't played since a couple of weeks ago. I felt like the timing was OK, better towards the fifth at-bat. But it was good to get that number of ABs that quickly. It felt as comfortable as, I guess, I could taking the two weeks off. … I finally got on base the fifth at-bat, so I was able to stretch the legs out a little bit. So it felt good."
As for Opening Day, Wright said: "I've been optimistic about Opening Day since I came back to St. Lucie and I talked with the doctors and the trainers about the diagnosis. As I said yesterday, it's kind of the same thing today: It's another step closer. I'm still very optimistic."