PORT ST. LUCIE, Fla. -- Injury news has dominated Mets camp, so has this been the most trying of Terry Collins' three spring trainings as manager?
"Well, we've had them every year when we broke camp," Collins said. "Coming into this year, obviously, with the makeup of the club, there certainly were a few names where you said, 'These guys we can't have hurt.' Four of them are hurt. Yeah, this has been a situation.
"But, as I keep telling the guys and keep telling the coaches, 'Hey look, we're going to leave here with 25 guys. And we're going to leave some guys behind. We've got to get the 25 guys who leave here ready to play.'
"We're not just going to go out and show up. We're going to play well. We're going to go out and play the game the way it's supposed to be played and expect that we're going to win some games, because our pitching is still OK. Somebody is going to have to step up and do the job."
Here are five questions entering the season: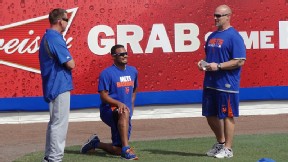 Adam Rubin
Johan Santana may not be ready until late May at the earliest.
WILL JOHAN CONTRIBUTE AGAIN?
Johan Santana is a competitor. If you recall, he tossed a shutout on short rest coming off a career-high pitch count with torn meniscus cartilage in his left knee in Game No. 161 of the 2008 season to keep the Mets in contention for another day. He also is in a contract year. So Santana, like Pedro Martinez, should be able to will himself to a certain level even with diminished stuff.
But it is alarming that Santana has only been throwing on flat ground at 90 feet and has not been on a mound in three weeks. In fact, there remains an open question whether his shoulder ever will be the same again. The best guess: The Mets don't see Santana until late May under the best of circumstances.
WHEN WILL THE PROSPECTS DEBUT?
And when we say prospects, we mean Zack Wheeler and Travis d'Arnaud. By keeping them at Triple-A Las Vegas for the first 20 days of the season, the Mets will delay their free-agency eligibility from after the 2018 season until after the 2019 season. But don't expect either in late April. The Mets likely will wait until late June at the earliest, to ensure Wheeler and d'Arnaud don't become "Super Twos" and earn an extra year of arbitration eligibility while under the Mets' control.
There are non-financial reasons, too. While several scouts rave about Wheeler's four 'plus' pitches and say he is ready, another scout noted Wheeler still has some control issues. That scout added that it is difficult to break two young pitchers into a rotation at the same time because there will be some inconsistency that would lead to taxing the bullpen. Matt Harvey still qualifies as a pitcher breaking into the majors, despite his 10-start success last season.
As for d'Arnaud, his first season at Triple-A ended June 25 last year with a partially torn posterior cruciate ligament in his left knee. So it will be beneficial to get more seasoning at that level as John Buck serves as placeholder with the big league club.
WHAT'S THERE TO LOOK FORWARD TO?
David Wright bobblehead day is June 30.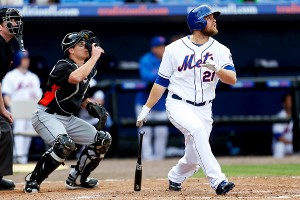 Chris Trotman/Getty Images
Lucas Duda has heated up in Florida.
No, seriously … Lucas Duda has picked up his offense after an abysmal Grapefruit League opening and is now hitting .348 with five homers since an 0-for-7, six-strikeout start. Ike Davis is moving better laterally another year removed from his ankle woes. Collin Cowgill and Jordany Valdespin have provided some much-needed energy, even if they're not elite outfielders. And Marlon Byrd, if spring-training performance means anything, arrived prepared to reclaim his reputation.
IS THE OUTFIELD THAT BAD?
What outfield?
BUYERS OR SELLERS AT THE TRADE DEADLINE?
Let's just say selling is far more likely. The good news: The Mets have a ton of players on one-year contracts at low costs that could yield some return if they are clicking at the trade deadline. Of course, there's likely no Wheeler-for-Carlos Beltran trade that will materialize, but one-year-commitments Brandon Lyon, LaTroy Hawkins, Scott Atchison, Pedro Feliciano, Tim Byrdak and Buck might end up being useful pieces to a contender. And, remember, the deadline to trade Santana is really Aug. 31, not July 31. That's because Santana, who is owed $31 million including his 2014 buyout, easily would clear waivers.