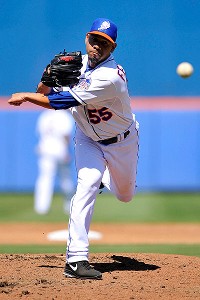 Brad Barr/USA TODAY Sports
Pedro Feliciano will pitch at Class A St. Lucie to open the season.
PORT ST. LUCIE, Fla. -- Pedro Feliciano, who opted to stay with the Mets in the minor leagues, indicated he will pitch for Class A St. Lucie, not at Triple-A Las Vegas.
"I think I'm going to be here in Florida for a month," Feliciano said. "... I'm just going to do my job and get strong."
As for why he stayed with the organization, Feliciano said: "I want to be here. This is my house."