PORT ST. LUCIE, Fla. -- The Mets now hope to have Shaun Marcum ready for Game 6 of the regular season, roughly at the end of the rotation's first turn, after Jonathon Niese starts twice on regular rest.
Pitching coach Dan Warthen said the Mets will try to have Marcum throw a bullpen session on Saturday and a 75-pitch game of some type on Tuesday. Warthen said Marcum would only need the one tune-up for the season, even though he has not been in a Grapefruit League game since March 16.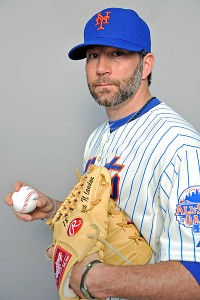 Steve Mitchell/USA TODAY Sports
Shaun Marcum
Of course, the Mets would need to commit to the Opening Day roster before Marcum's scheduled game at the Port St. Lucie complex on Tuesday. So Marcum appears ticketed for the DL no matter what.
He would be eligible to be activated April 7, the first date the Mets would require a fifth starter.
So who breaks camp with the Mets?
Terry Collins said Tuesday he expected Aaron Laffey to serve in a bullpen role, then step into that fifth-starter's spot if Marcum is not ready. But there's another plan also being discussed that seems more viable:
The Mets could carry an extra arm already on the 40-man roster in the bullpen to start the season (think both Greg Burke and Jeurys Familia making the team). Then, one could be optioned to the minors when Marcum is activated from the DL for Game 6. Or, if Marcum is not ready, one still could be optioned to the minors and Laffey or a different starting pitcher could be called up to enter the rotation for the duration of Marcum's absence.
That also would alleviate the Mets having to free an extra 40-man roster spot for Laffey on Opening Day -- and potentially at all.
Marcum first had a shoulder impingement that required a cortisone injection. He then complained of neck discomfort during a bullpen session Monday. He is taking anti-inflammatory medication.
Marcum said he was particularly concerned because he believed something similar happened to Chris Carpenter, derailing his career. Carpenter eventually was diagnosed with a neurological disorder.
"My neck starting tightening up where I couldn't really turn my head," Marcum said. "So I decided to shut it down and see what was going on. I don't know what happened with Chris Carpenter. I know he was having some neck problems. You have to look out for your best interests after baseball. So I wanted to make sure I'm 100 percent healthy, because it's a game. I'm not going to play it forever. I have to worry about my life after baseball, too.
"It was definitely a concern. Now that I'm feeling better, I don't think it's that big of deal. But you never know what's going on in there. It could be something where it catches up to me a couple of years down the road. Like I said, I don't want to have to go through what [Carpenter has] gone through these past couple of years where it could be something that's screwing with his shoulder and he's still not right."
Marcum added: "I didn't sign here to come on the DL. I'll find a way to pitch. If I have to deal with it, I'll deal with it. But I'll find a way to pitch through it if I have to."