PORT ST. LUCIE, Fla. -- After learning Johan Santana had a probable re-tear of the anterior capsule in his pitching shoulder, Mets captain David Wright reached out to the two-time Cy Young winner Thursday night.
"He was kind of in a bit of shock," Wright said. "I don't think anybody was expecting this. He said he did everything possible to rehab this thing. He did everything the right way. For this to happen, I think for everybody, including him, it's kind of shocking and disheartening."
Santana will spend the weekend mulling whether to proceed with the season-ending surgery for the second time in three years.
As the Mets prepared to depart Port St. Lucie on Friday, teammates nearly uniformly reacted with surprise at the diagnosis.
Tim Byrdak, currently working back from the same surgery, said he could not fathom going through the grueling rehab twice.
"You know you're going into an operating room, and coming out you won't be able to use that left arm for a month, maybe six weeks. You can't put a shirt on. You can't use it," Byrdak said. "[There's] that slow, manipulative process of trying to get that range of motion. You don't sleep much the first two months, because you're in a brace that locks it in a place.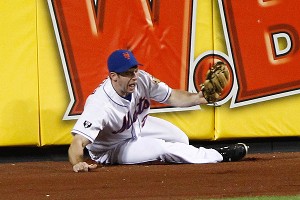 Debby Wong/USA TODAY Sports
Mike Baxter's seventh-inning catch against Yadier Molina, which resulted in a separated shoulder, preserved Johan Santana's no-hit bid.
"To go through it a second time, I think it would actually be harder because you know what's ahead. The first time you go through it, it's kind of a mystery, so you're not knowing what to expect. The second time you know your checkpoints, going, 'OK, this is where we're at.' Knowing the end result, how far away it is, it's really rough."
Have we seen the last of Santana in the majors? Mike Baxter, whose catch saved Santana's no-hitter last season, did not want to believe that.
"You can't count a guy like Johan out," said Baxter, who separated a shoulder on that June 1 catch. "I'm not going to even speculate if that's the last or not. Knowing his work ethic, I believe he's going to do everything he can, if he wants, to continue."
Dan Warthen said Terry Collins ought not to be feeling any guilt. The pitching coach expressed confidence that Santana's 134-pitch no-hitter played no role in the probable re-tear.
Collins had agonized as Santana pursued history about whether he should let the southpaw finish the game.
"This is not a byproduct of the no-hitter," Warthen said. "At least I don't feel it was in any way, shape or form -- because he had good velocity and arm strength after that.
"And it doesn't matter, because he would have never let us get him out of the game anyway."
Warthen realized Santana was struggling this spring training, even if he didn't know the precise reason.
"He had trouble getting his arm into throwing position," Warthen said. "When he finally felt it was pretty good, the ball didn't come out like it generally does from Johan's arm."
As for picking up the pieces, the Mets apparently now go forward with a rotation of Jonathon Niese, Matt Harvey, Dillon Gee, Jeremy Hefner and Shaun Marcum -- at least until prized prospect Zack Wheeler is deemed ready. And presuming Marcum is healthy.
"You just pick up and move on, really," Gee said. "Baseball-wise, you've got to move on. But personal-wise is where we all feel bad for him and wish it was something different."
During this spring training, Hefner went from a potential long man in the bullpen to a placeholder for Santana to now the opportunity to pitch in the rotation the entire year if he's clicking -- or, at least, until a Wheeler summer promotion.
"We'll see how the year plays out," Hefner said. "It would be selfish of me to say that's something I wanted. You know what I mean? I'm going to compete whether I'm in Triple-A or the big leagues or wherever. If I get the opportunity in the big leagues to pitch the whole year, hopefully I can do that and do well at that."
Wright, the longest-tenured Met, has the most perspective in the clubhouse on Santana's career. The captain remembers Game No. 161 in 2008, when Santana pitched a shutout against the Marlins on short rest with a torn meniscus while coming off a career-high pitch count to keep the Mets' postseason hopes alive.
"We didn't close it out the way we wanted to, but it had nothing to do with Johan's performances," Wright said about the '08 collapse.
Wright witnessed a host of potential Hall of Famers go through the Mets clubhouse later in their careers. Aside from Santana, the list includes Pedro Martinez and Tom Glavine.
"He's right up there toward the top of that list," Wright said about Santana. "I got a chance to be a part of Glavine's 300th [win]. Pedro, it seemed like there was just an aura every time he took the mound. Johan, the same thing. It's not every day you get a chance to play with those Cy Young Award winners."
Wright still hoped there is an alternative to repeating the anterior capsule surgery.
"Hopefully they do a little further research and maybe come up with an alternate plan or something," Wright said. "Hopefully we haven't seen the last of him.
"It's disheartening," the third baseman added. "[But] if there's anybody who can come back from something like this, it's Johan. I'd bet on him, if he decides that's the route he wants to go, because I've seen firsthand the intensity and the work he puts in to come back from these types of things."