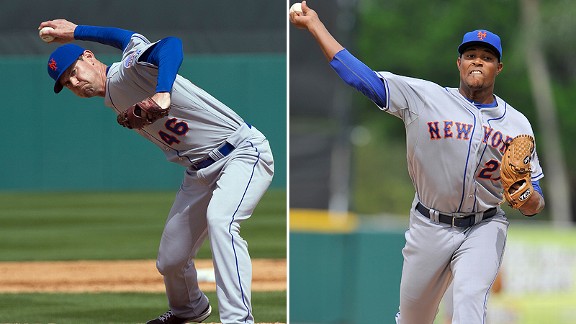 USA TODAY Sports
Sources tell ESPNNewYork.com that Greg Burke and Jeurys Familia have made the Opening Day roster.
PORT ST. LUCIE, Fla. -- Submariner Greg Burke and right-hander Jeurys Familia both have made the Opening Day roster, sources told ESPNNewYork.com.
Assuming the Mets proceed with carrying two left-handers in the bullpen, that suggests the Mets will have eight relievers to open the season: Bobby Parnell, Brandon Lyon, LaTroy Hawkins, Scott Atchison, Josh Edgin, Burke and Familia as well as Robert Carson or Scott Rice.
Carson is on the 40-man roster and presumably has the advantage.
The Mets would then need to shed a bullpen piece when Shaun Marcum would be activated from the DL to make the Game 6 start.