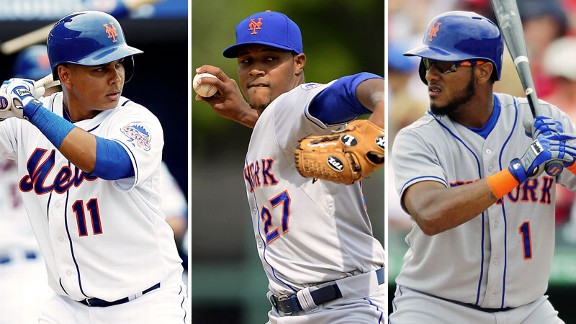 Getty Images/Associated Press/USA TODAY Sports
Ruben Tejada, Jeurys Familia and Jordany Valdespin will be the only active foreign-born players on the Mets' Opening Day roster.
SARASOTA, Fla. -- The Mets, who had been the most diverse team in Major League Baseball under Omar Minaya, will have a decidedly U.S.-centric roster this Opening Day.
Only three of the players on the active roster Monday will have been born in a foreign country: Ruben Tejada (Panama), Jordany Valdespin (Dominican Republic) and Jeurys Familia (Dominican Republic).
In 2007, the Mets ranked No. 1 in MLB with 15 foreign-born players, including those who opened the season on the DL.
The Mets do have three foreign-born players opening the season on the DL this year: Johan Santana (Venezuela), who will not pitch this season; Jenrry Mejia (Dominican Republic), who will be optioned to the minors when his forearm issue is resolved; and Frank Francisco (Dominican Republic).