WHAT IT MEANS: The Mets' Amazin' Opening Day success continues.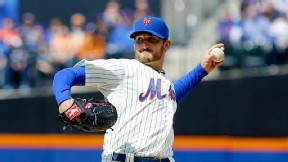 Frank Franklin II/Associated Press
Jon Niese earned the win in his first career Opening Day start.
Jonathon Niese surrendered two runs in a 101-pitch effort over 6 2/3 innings, the Mets knocked out Edinson Volquez before he recorded an out in the fourth and Collin Cowgill capped things off with a seventh-inning grand slam as the Mets beat the San Diego Padres, 11-2, on Monday at Citi Field.
The Mets improved to 34-18 in openers, upping their MLB-best winning percentage to .654 on Day 1.
The Citi Field crowd was announced as a sellout at 41,053 -- plus another 1,000 tickets donated to Sandy relief -- although there appeared to be pockets of empty seats.
WHAT OUTFIELD? Cowgill, whose four RBIs were a career high, became the second Met to produce a grand slam on Opening Day, joining Todd Hundley (1995, off Billy Swift at Colorado). Brad Brach, who gave up Cowgill's slam, grew up in Freehold, N.J., and played college ball at Monmouth.
NIESELY DONE: Niese, the Mets' 22nd different Opening Day starter, did some of the damage with his bat. He went 2-for-2 with a walk. That included delivering an RBI single off the glove of third baseman Cody Ransom in the second inning, which staked the Mets to a 2-0 lead.
Only two major league pitchers reached base three times in a game last season without benefit of an error: Mat Latos and Cole Hamels.
Niese hit .218 last season, tied with Tim Hudson for third among NL pitchers who had at least 60 plate appearances. Mike Leake led that category with a .295 average. Edwin Jackson ranked second, at .228.
On the mound, the damage against Niese came on a third-inning RBI single by Carlos Quentin and a homer to open the sixth by Yonder Alonso. He allowed four hits and two walks while also hitting a batter and striking out four.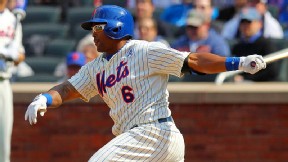 Brad Penner/USA TODAY Sports
Marlon Byrd had a pair of RBI singles in his Mets debut.
TWO-FER SPECIAL: Marlon Byrd contributed a pair of run-scoring singles in his Mets debut, while fellow newcomer John Buck had an RBI single.
Byrd, Buck and Ruben Tejada each notched two hits.
Byrd's two RBIs matched his entire total in 13 games with the Chicago Cubs to open last season.
Buck -- not fleet of foot -- had scored the game's opening run from first base on a double by Tejada into the left-field corner in the second inning.
Tejada's contribution was particularly welcome considering his frigid spring training. After homering in his first Grapefruit League at-bat (against Washington's Stephen Strasburg), Tejada hit .078 (4-for-51) the remainder of spring training, leading to multiple conversations with Terry Collins.
OFF AND RUNNING: David Wright produced a third-inning single, continuing his streak of at least one hit on Opening Day every season he has been in the big leagues (since 2005).
Wright also stole two bases. He joined Mookie Wilson and Darryl Strawberry as the only Mets with multi-steal games on Opening Day.
Wright ranks fifth on the franchise's all-time steals list with 168. He trails Jose Reyes (370), Mookie Wilson (281), Howard Johnson (202) and Darryl Strawberry (191).
Wright has produced one 30-30 season in his career -- 2007, when he had 30 homers and 34 steals.
OUTTA HERE: Volquez had his shortest outing since lasting only 1 2/3 innings against the Mets last Aug. 4 in San Diego. He was charged with six runs this time. Only Mudcat Grant (1 1/3 innings, 1969 Montreal Expos) and Russ Ortiz (2 1/3, 2004 Atlanta Braves) had shorter Opening Day starts against the Mets in the franchise's 52-season history.
DEFENSIVE SPECIALIST: After Lucas Duda drew his second walk of the game in the seventh, Kirk Nieuwenhuis pinch-ran with the Mets leading by five runs. Nieuwenhuis stayed in the game in center field, with Cowgill shifting to left field. Collins' intention is to sub Nieuwenhuis for Duda late in games when the Mets have a lead.
SWING AND MISS: Ike Davis went 0-for-5 with four Ks -- the first Met ever with that strikeout total on an Opening Day.
DEBUTANT: In his 15th pro season, Scott Rice made his major league debut, handling the ninth. He struck out two.
WHAT'S NEXT: After an off-day, the Mets send Matt Harvey to the mound Wednesday at 7:10 p.m. against Padres left-hander Clayton Richard. The Mets had a 21-38 record against southpaw starters last season.