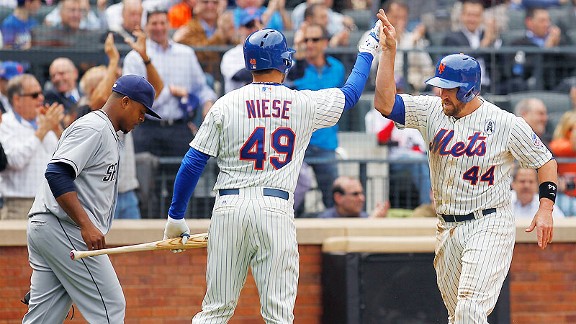 Mike Stobe/Getty Images
Jonathon Niese, who reached base in all three of his plate appearances, greets John Buck after the catcher scored Monday.
FIRST PITCH: The Mets produced their first double-digit scoring output on Opening Day in 19 years behind a grand slam from Collin Cowgill and beat the Padres, 11-2, Monday at Citi Field.
Six Mets had two-hit games, including newcomers Marlon Byrd, John Buck and Cowgill, plus pitcher Jonathon Niese.
QUICK STARTERS
The Mets own the best Opening Day winning percentage in MLB history.
The Mets improved their Opening Day winning percentage to an MLB-best .654 (34-18).
Terry Collins thought winning on Day 1 was important to try to establish credibility with fans.
The Mets take today off, then send Matt Harvey to the mound Wednesday night against Padres left-hander Clayton Richard.
A pair of intended members of the Mets' rotation will have important events during today's off-day, though.
Johan Santana undergoes surgery to repair a torn anterior capsule in his left shoulder for the second time.
In Port St. Lucie, Shaun Marcum will throw in a controlled game in which he tosses 75 pitches, spread evenly over five innings.
Marcum suffered from a shoulder impingement and neck discomfort during spring training, although he officially was placed on the DL by the team with biceps tendinitis. The Mets hope to activate Marcum for Sunday's homestand finale against the Miami Marlins. Otherwise, Aaron Laffey is a candidate to be called up from Triple-A Las Vegas and make the start.
Tuesday's news reports:
• Read game recaps in the Times, Daily News Record, Star-Ledger, Newsday and MLB.com.
• Cowgill became the first Met to hit a grand slam in his debut with the franchise. Read more in the Star-Ledger, Post and Times.
• Niese became the 22nd different Mets pitcher to start on Opening Day. In addition to reaching base in all three of his plate appearances, the southpaw limited the Padres to two runs in 6 2/3 innings to earn the win. Read more in the Post and Newsday.
• Ruben Tejada, after hitting .096 in spring training, drove in the first run of the season with a second-inning double off Edinson Volquez that scored Buck from first base. Read more in Newsday and the Post.
• David Wright continued his streak of producing at least one hit in every Opening Day game in which he has participated. He also stole two bases Monday. Wright was introduced by Howie Rose during the pregame ceremony as the fourth captain in franchise history. Read more in the Record, Post and Newsday.
LATE BLOOMERS
Scott Rice became the eighth-oldest player to make his MLB debut with the Mets. He is second only to Shawn Gilbert among U.S.-born players.
• Former Long Island Ducks left-hander Scott Rice made his major league debut with a perfect ninth that included two strikeouts. Rice (31 years, 192 days old) became the second-oldest U.S.-born player to make his major league debut with the Mets. Only Shawn Gilbert (32 years, 82 days) in 1997 was older. Read more in the Record, Daily News, Post and Newsday.
• Overall, the retooled bullpen tossed 2 1/3 scoreless innings, notes Jorge Castillo in the Star-Ledger.
• Frank Francisco (elbow), Jenrry Mejia (forearm), Marcum and Santana officially were placed on the disabled list.
• The Mets generously announced Monday's crowd as a sellout of 41,053, despite pockets of empty seats visible. The team said another 1,000 tickets -- not counted in the attendance total -- were given away to those affected by Hurricane Sandy. Read more in Newsday.
• Dwight Gooden, who attended the Mets opener, told Neil Best in Newsday: "I'm not sold on the bullpen yet, but I like the starting pitching. And the offense, I think, can be average. It's going to be a long shot this year, obviously. A lot of things need to go their way. They have to be healthy, some guys have to play better than expectations. And you have to hope for injuries from the other teams in the division, unfortunately."
• New Jersey Governor Chris Christie, a devout Mets fan, attended Monday's Mets-Padres game, notes Mike Lupica in the Daily News.
• Columnist Steve Politi in the Star-Ledger and Mike Vaccaro in the Post say Day 1 gave Mets fans hope. Johnette Howard at ESPNNewYork.com, Tyler Kepner in the Times and Tim Smith in the Daily News also review the positive day.
• Ike Davis went 0-for-5 with four strikeouts. "The streak continues," Davis told Mike Puma in the Post. "Maybe I'm nervous or jitters or swinging too hard. I still have never gotten a hit on Opening Day."
• From the bloggers … Faith and Fear in Flushing frames Opening Day as the other side of "to be continued..." … Shannon from Mets Police congratulates the Mets on announcing a sold-out stadium, but is befuddled by the pictures of empty seats he took.
BIRTHDAYS: Hisanori Takahashi turns 38. … Al Weis was born on Long Island on this date in 1938.
TWEET OF THE DAY:
I wonder if @adamrubinespn still thinks we're only getting 66 W's this year?

— Real Edwin (@thereal_edwin) April 1, 2013
YOU'RE UP: Does your opinion of the Mets' potential change because of their Opening Day showing?