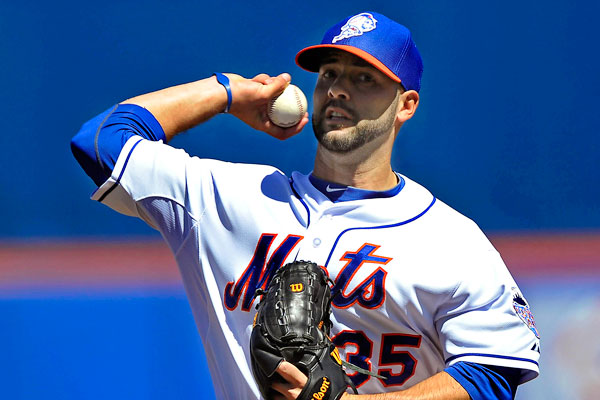 Brad Barr/USA TODAY Sports
Dillon Gee will be on a major league mound today for the first time since July.
FIRST PITCH: Dillon Gee is set to deliver his first major league pitch since July 7, 2012 and the Mets attempt to complete a sweep of a season-opening series against left-hander Eric Stults and the San Diego Padres today at 1:10 p.m. at Citi Field.
Gee underwent emergency surgery during last year's All-Star break to repair a damaged and obstructed artery in his right shoulder that caused his pitching arm to go numb.
The procedure has restored the feeling in Gee's pitching hand, although he still may need to be wary in extreme cold temperatures. That bears watching since the Mets play in cool climates to open the season -- New York, Philadelphia, Minneapolis and Denver. Gee has been given nitroglycerin tablets to take to expand blood vessels in an extreme case where the cold weather starts impacting his ability to feel the baseball.
"I think I'll be fine -- even if it's 40, 35 [degrees]," Gee said. "It hasn't been an issue."
Gee did experience frigid weather once during the offseason while hunting and mostly kept his right hand in a pocket.
"It was like 20 that day, and I was still OK," Gee said. "It would probably be more if I was sitting on the bench than pitching. I think pitching I'll be fine, I'm so active."
Thursday's news reports:
• Shaun Marcum is due to be examined in New York today after being unable to throw a simulated game Tuesday in Port St. Lucie, Fla. Terry Collins said Marcum has significant discomfort "running from his shoulder up through his neck."
Late in spring training, Marcum told reporters he had aborted a mound session when he had neck discomfort because he remembered what Chris Carpenter experienced with the St. Louis Cardinals and didn't want to risk doing significant damage.
Carpenter's issue is known as thoracic outlet syndrome, in which nerves or arteries may get compressed in the area between the collarbone and first rib. (See Mayo Clinic discussion of the issue here.) Carpenter underwent surgery last July that involved removing a rib, but he experienced continued pain this February that will cause him to miss this season and perhaps end his career.
The Mets guaranteed Marcum $4 million this season, with the opportunity to earn another $4 million in incentives. (See the contract breakdown here.)
Left-hander Aaron Laffey is expected to be promoted from Triple-A Las Vegas to take Marcum's intended start Sunday against the Miami Marlins. Laffey, who turns 28 this month, went 4-6 with a 4.56 ERA in 22 appearances (16 starts) with the Toronto Blue Jays last season.
Read more in the Star-Ledger, Post, Daily News, Record, Times and Newsday.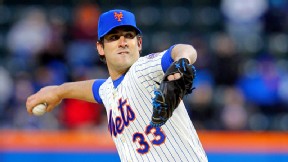 Brad Penner/USA TODAY Sports
Matt Harvey tossed seven scoreless innings Wednesday.
• Matt Harvey struck out 10 -- one shy of the career-high total he produced in his major league debut -- and surrendered only one hit and two walks in seven scoreless innings to earn his first career home win as the Mets beat San Diego, 8-4, Wednesday. Lucas Duda, John Buck and Ike Davis belted two-run homers against left-hander Clayton Richard, who had allowed an NL-high 31 homers in 2012.
The 19 runs produced by the Mets match the franchise record for the first two games of a season. The 1969 club against Montreal and the 1979 club at Chicago also posted that run total.
Harvey became the sixth pitcher in franchise history to toss seven-plus scoreless innings within the first two games of the season. He joined Dwight Gooden (1993), Frank Viola (1990), Jon Matlack (1976), Tom Seaver (1973) and Jerry Koosman (1968).
Harvey is the third Met to produce 10-plus strikeouts in three of his first 11 games, joining Gooden and Nolan Ryan.
His 80 strikeouts are the fourth-most by a pitcher in his first 11 games as a Met, trailing only Pedro Martinez (92), Gooden (87) and Ryan (85).
The Mets went 21-38 against southpaw starting pitchers last season, but are now 1-0 in 2013. The team got an MLB-worst five homers from its catchers a year ago (Kelly Shoppach 3, Josh Thole 1, Mike Nickeas 1).
Read game recaps in the Times, Post, Star-Ledger, Daily News, Record, Journal, Newsday and MLB.com.
Read more on Harvey from columnist Filip Bondy in the Daily News, George Willis in the Post and Anthony Rieber in Newsday.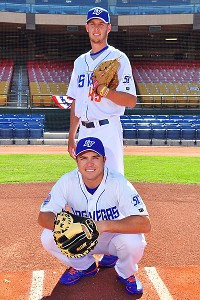 Courtesy of Las Vegas 51s
Zack Wheeler and Travis d'Arnaud form the battery as the Las Vegas 51s open their season late tonight at Sacramento.
• The Mets' four full-season affiliates open play Thursday. The Opening Day starters: Zack Wheeler for Triple-A Las Vegas at Sacramento, Rafael Montero for Double-A Binghamton at Akron, Hansel Robles for high-A St. Lucie versus Jupiter, and Matt Bowman for low-A Savannah versus Rome. Noah Syndergaard, the highly regarded pitching prospect obtained from the Toronto Blue Jays in the R.A. Dickey deal, is due to make his debut with the organization Sunday for St. Lucie.
• Mike Piazza will have a cameo performing in the Miami City Ballet.
• Jared Diamond in the Journal notes the Mets stuck with Ruben Tejada despite a poor spring training.
• From the bloggers … Mets Police asks if Howie Rose still has his Mercury Mets jersey.
BIRTHDAYS: The late Gil Hodges was born on this date in 1924. … Eric Valent, who hit for the cycle with the Mets in 2004, is 36. … Jim Fregosi, now a special assistant for the Atlanta Braves, turns 71. … Longtime Cardinals second baseman Tommy Herr, who played for the Mets late in his career, turns 57.
TWEET OF THE DAY:
Is Keith Hernandez wearing camo gloves AND a fur coat? Talk about a fashion statement. #mets

— Dave Harrison (@mysteryaction) April 4, 2013
YOU'RE UP: Would you rather watch today's Mets-Padres game, Zack Wheeler throwing to Travis d'Arnaud in Sacramento … or Mike Piazza when he performs with the Miami City Ballet?