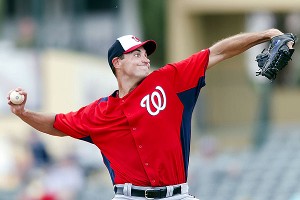 Steve Mitchell/USA TODAY Sports
Chris Young remains a free agent, but the Mets are not showing interest.
Despite the Mets losing Johan Santana for the season and Shaun Marcum getting examined today for a pain in his neck and shoulder, the Mets continue to refrain from pursuing Chris Young, a major league source told ESPNNewYork.com.
Young opted out with the Washington Nationals at the end of spring training after producing a 2.25 ERA in 16 Grapefruit League innings.
Jeremy Hefner has plugged into Santana's rotation spot, while Aaron Laffey is expected to be promoted from Triple-A Las Vegas for Sunday's start against the Miami Marlins in place of Marcum.
UPDATE: Chris Young has signed a minor league deal with the Nationals.