Dillon Gee wasn't thrilled with the precision of his pitches, but he nonetheless felt good about his first major league game action since undergoing surgery last July 13 to repair a damaged artery in his pitching shoulder.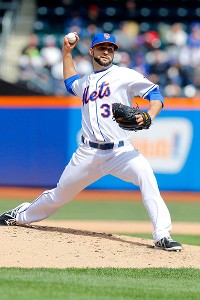 Jim O'Connor/USA TODAY Sports
Dillon Gee appeared in his first major league game Thursday since undergoing surgery at last year's All-Star break.
"I put it behind me a long time ago, but it definitely feels nice to get out there and get back in the regular season and get on the mound in a big league game," said Gee, who limited San Diego to one run in 6 1/3 innings in a 2-1 loss Thursday afternoon at Citi Field. "It's a turning point. Hopefully I can keep going from there. It really just felt like another day. It's obviously a big deal, but to me I took it like any other day. I really wasn't too anxious about it."
Gee said he felt healthy. He indicated his issue was the sharpness of his pitches. He had struggled with his release point and command much of spring training, before tossing six scoreless innings against the Atlanta Braves and then having a credible final outing against the Baltimore Orioles at the close of camp.
"Nothing really felt that great," Gee said about Thursday. "... I think I did a good job of just battling and staying in there and making decent pitches when I really had to."
Said Terry Collins: "We were a little concerned about the release point and lack of command that he had early in camp, but his last two outings were good. Today, he pitched very well. He kept us in the ballgame. He gave us a chance. I hope he puts the health issues behind him, because we know his stuff is good enough. He showed today that when you make pitches you're going to get easy outs."
Gee said the circulation in his hand was not affected by the cold weather.
"It wasn't that cool out there today," said Gee, who dealt with a first-pitch temperature of 47 degrees.
As for the Mets getting blanked until John Buck homered in the ninth, considering Jonathon Niese and Matt Harvey got a combined 19 runs of support in the opening two games of the series, Gee said: "That's baseball. The guys have done great all series, and they're going to continue to do great. Sometimes you lose those games like that."